5 Best 32-inch Smart TV under 15000 in India
Best 32 inch Smart TV under 15000: Rather than going to theatres, Now People prefers to watch movies and web series on OTT platforms Such as Netflix, Prime, Hotstar etc. It is also the future of the entertainment industry where we will see all New films being launched on online streaming platforms rather than in theatres. Due to COVID 19, the government has closed theatres to maintain social distance and prevent people from gathering. In such a situation entertainment means are OTT platforms. The real fun of watching movies and web series on online platforms comes in big-screen TVs and sound systems. Not in small mobile and laptop screens.
Nowadays, a lot of smart televisions have come in the Indian market with pre-installed Netflix, Amazon Prime, Hotstar etc Streaming Platforms. Users can stream their favourite and latest contents directly on their Smart Televisions without installing any third-party device or apps. There are different types of TVs like QLED, OLED, 4K UHD, FHD etc available in the Indian Market for different types of rooms and purposes.
There are some people who want to buy smart TVs for their small bedrooms or office cabins in the budget range. If you are also one of those people then this post can be helpful for you. In this post, we will tell you about the Best 32 inch Smart TVs under 15000 in India. For small bedrooms and offices, 32-inch size is the best. Because In a TV of this size you will be able to take a full view and your eyes will not be stressed. Although you won't be able to get any 4K TV in this size right now. But You will definitely get a budget smart TV, which makes perfect sense in such rooms.
Top 5 Best 32 inch Smart Tv under 15000 in India 
Vu Cinema Series 80cm Smart TV
Vu is a renowned brand in the TV Market. The brand has great reviews and service network in India. Vu has recently launched its Cinema TV series in India. The Cinema series is one of the biggest Hit from the Brand. It features the 32-inch Bezel-less Display Design with a resolution of 1366yX768 Pixels. In addition, the display gets Adaptive Luma Control to adjust Contrast and digital MPEG for Noise Reduction.
The main highlight of Vu Cinema TV is its Sound. It is equipped with inbuilt soundbar placed at the bottom which includes two tweeters and two speakers. It Soundbar produces 40W of output. The sound quality is very impressive and users will never need to connect any external soundbar and speaker. It runs on Android 9.0 Pie and has 1GB of RAM, 8GB of Internal Storage. It also supports Apple AirPlay to cast iOS Devices. If you are looking for a Best Display and Sound Quality Smart TV in this Segment then VU cinema 32inch is for you.
Best Price– Rs. 13,499
Key Features of Vu Cinema Tv
80cm Bezel-less Display with Adaptive Luma Control and Digital MPEG.
Inbuilt 40W Soundbar with 4 Speakers.
Android 9.0 Operating System.
Apple Airplay Support to Cast iOS Devices.
Pros of Vu Cinema Tv
Best Display in this Segment
The inbuilt soundbar and sound quality
Airplay option to cast iOS Devices
Value for Money
Cons of Vu Cinema Tv
Availability
Plastic Table Stand
OnePlus Y Series 32 inch HD Ready Smart
OnePlus has recently launched its New Android Smart TV range in India Market. Also, in the first sale, its Y series gets sold out in a minute on E-commerce Site Amazon. The main reason for recommending this television is its screen clarity and viewing angles. It is currently the Best 32 inch Tv at this price point. It comes with a resolution of 1366×768 pixels and refresh rate of 60Hz. For Connectivity, it offers 2 HDMI Ports to connect (setup box, gaming console, DVD Player emtc.), 2 USB  Ports, RF Port, Audio Video Input and Ethernet Port. The OnePlus Y Series Features Android 9.0 Pie with Google Data Saver, OnePlus Connect, Built-in Chromecast, Google Assistant for Voice inputs and Google Play Store.
It also comes with Netflix, Amazon Prime, Disney + Hostar pre-installed Apps. You can install apps from the Google Playstore.  In terms of design, it gets the Bezel-Less Display with an Aspect Ratio of 91.4%. It powers by 1GB of RAM and Mali 470 Triple Core GPU. It's a great package at this price point for users who are looking for a Small Tv with Excellent Screen Quality. On the other hand, the downside of Oneplus Tv is that it does not comes with Wall Mounts inside its box, to mount it on the wall you have to purchase wall mounts from Market. Another big disadvantage of this particular Tv is its Availability. Currently, it is Available Exclusively through Amazon Flash Sale.
Best Price- Rs. 12,999
Key Features of OnePlus 32Y1
 32-inches Bezel-less design display with gamma engine.
20W Speaker Output with Dolby Audio Sound Support.
OnePlus Connect and Oxygen Play.
Android 9.0 Operating System.
Pros of OnePlus 32Y1  TV
Best in Segment Display Clarity
Value for Money
Performance
Connectivity Features
Cons of OnePlus 32Y1 Tv
Availability
No Wall Mounts inside the Box
Sound Quality
Recommended: OnePlus Nord Series Specifications, Price in India and Features
TCL 32 inch S6500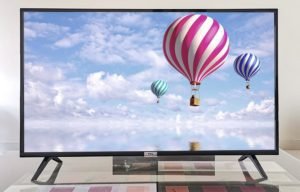 TCL is Global No. 2 Television Manufacturer. The Company offers a wide range of Smart TVs in the Indian Market. While Purchasing Home Appliances, the first thing that comes in our Mind is Warranty and that's where TCL excels other Manufacturers in India. The Main Reson to recommend this Brand is its Warranty Period. TCL is offering 3 Years of Warranty on its TV Line up in Indian Market. You can purchase TCL Televisions from Both Online and Offline Market. There is a wide range of 32inch Smart TV available from the manufacturer. But the TCL S6500 Series 80cm (32 inches) HD Ready LED Smart Android TV  (32S6500S) is the Best and latest in its lineup.
The main highlight of this particular Television its Sound Output. If you are an Average User then you will not need to connect any soundbar with this TV. It generates 16W Sound output and equipped with Dolby Audio Technology. The Sound Quality of TCL S6500S is best in its segment. It comes with 80cm A+ Grade Panel 2K HDR10 Display with True Color and Micro Dimming. For Connectivity, TCL has given built-in Chromecast, 2 HDMI Ports, Single Video Port with Av Connector, 1 USB Port. Moreover, It's the Google Certified Android TV and runs on Android 9.0. For Storage, it has 1 GB of RAM and 8GB of Internal Storage. It powers by Mali470x2 Graphics Processor.
Best Price: Rs. 11,250
Key Features of TCL 32inch S6500
3 years of Warranty.
80cm A+ Grade Panel 2K HDR10 Display.
Google Certified Android TV and runs on Android 9.0.
Mali470 x2 Graphics Processor.
Pros of TCL Tv
3 years of Brand Warranty
Display and Sound Quality
Extreme Value for Money
Cons of TCL TV
Does not support 5Hz Wifi and Some Bluetooth Devices
Build Quality
Plastic Stands
LG All in One 32 inch HD Ready LED Smart TV  (32LM560BPTC)
LG is the brand on which Users Trust Blindly. The Reliability of LG TVs are unbeatable and makes value for money Products. The LG's 32 inches Smart TV with Model Number 32LM560BPTC is easily available under Rs. 15,000 in Indian Market. It comes with an 80cm LED Display with a resolution of 1366 X 768 Pixels and Active HDR. The Display Produces 50Hz of Refresh rate and also supports HDR 10 Pro. It is equipped with two speakers which feature Dolby digital plus DTL virtual X surround sound technology.
For connectivity, it has 2 HDMI ports, 1 USB port, AV, cable in, 3.5mm headphone jack, WiFi, Bluetooth etc. Moreover, It runs on the WebOS operating system which includes LG content store for downloading apps. On the other hand, for Storage, it gets 1 GB of RAM and 4GB of Internal Storage. If you are looking for a branded smart TV with good sound quality then LG All In One 32-inch LED is for the perfect option for you.
Best Price- Rs. 13,999
KeyFeatures of LG All in one 32inch
80cm LED Display with Active HDR and HDR 10 Pro.
Runs on WebOS Operating System.
Dolby digital plus DTL virtual X surround sound technology.
Pros of LG TV
Premium Brand
Extremely Reliable
Value for Money
Decent Sound
Cons of LG TV
Runs on WebOS (Non-Android Tv).
Only 4GB Memory.
Connectivity (Doesn't Supports Some Bluetooth devices and Some Wifi Signals).
Recommended: Best Budget DSLR Camera for Beginners
Samsung

Wondertainment Series

32 inch HD Ready LED  (UA32T4340AKXXL)
Samsung is another premium brand which makes reliable Televisions. It is also the Global No.1 Tv Manufacturer Like Other Smart TVs in this Segment, it also gets 80cm Display with 1366 X 768 resolution and HDR support. This display also features PurColor technology that allows this TV to display an array of colours for an incredible visual experience. For Users who connects their CPU or Laptop with the TV for Presentation or any other purposes, it has given PC Mode (Personal Computer) for mirroring your laptop on the big screen, working from the cloud and accessing your office computer. Apart from this, It runs on Samsung's Tizen OS and powers by Mali400 Graphics Processor. It generates Sound from 20W Speakers with Dolby Digital Support. If you are looking for a branded TV that supports most of the OTT App and great display quality. Then Samsung Wonderseries 32inch is for you.
Key features of Samsung

Wondertainment Series

32 inch
80cm Display with PurColor technology and HDR support.
Runs of Tizen OS.
PC Mode to access Files from Computer.
20W Speakers with Dolby Digital Support.
Pros of Samsung 32-inch TV
Premium Brand
Display Quality
Computer mode to connect laptop and access files
Cons of Samsung 32-inch Tv
Runs of Tizen OS (Not an Android TV)
Connectivity issues (Doesn't supports most of the Bluetooth Speakers)
That's it in this post of " Best 32-inch Smart TV under 15000 " in 2021. If you have any questions / Doubts / Suggestion regarding any particular product then please comment down below. All the devices included in this post, are tested by our team.