Vehicle Registration Details with Address: If you are worried about daily parking problems or someone has parked his/her vehicle in front of your vehicle and later on, you face problem to find the owner of that Vehicle then this post is for you. In this post, we are going to tell you " Vehicle Registration Details with Address ". 
Sometimes the situation arises when the vehicle is parked incorrectly or any other problem happens. In such circumstances, we have to call the RTO office and some formalities have to be completed to find the owner details. Now You can find the Owner Details of a Vehicle within Few seconds from your smartphone.
How To Check Vehicle Registration Details with Address
RTO Parivhan Vehicle Registration App Method
Details you can find out by this method :
By entering a Vehicle Registration Number you can find the following details of that Vehicle:
Owner's Name
Age
Registration City
vehicle Type
Model of the Vehicle
Registration Date of Vehicle
Engine Number
Chassis Number
You can easily Check Vehicle Registration Details with Address via RTO Parivhan Vehicle Registration App. This app allows you to find out the details of any vehicle registered under the RTO in India.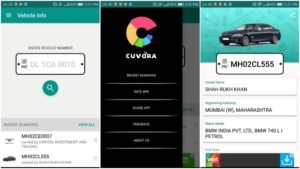 First of all, you have to Open Google Play store in your Android Device.
Then you have to download and install the RTO Parivahan Vehicle Registration App in your device.
After Installing, Open RTO Parivahan Vehicle Registration App.
Next, you have to enter the number of vehicles you want to search in a given search bar.
Tap on search. That's it now you can easily " Check Vehicle Registration Details with Address ".
Recommended: Best mileage bikes under Budget
Benefits of Installing RTO Parivahan Vehicle Registration App
You can easily find the details of Vehicle's owner
 Find Information of Any vehicle: Two Wheeler, Four Wheeler or Three Wheeler.
Verify and identify the real owner of the vehicle on your own.
Helps in Identifying the Chasis Number, Engine Number etc while purchasing a second-hand vehicle.
Now you Don't need to visit the RTO office to get any information about the vehicle and owner.
Keeps a record of all your recent searches such that you can find which numbers you have searched in past.
If you have any questions regarding how to Check vehicle Registration Details with Address then please comment down below.
Another method to Check Vehicle Registration Details with Address and all registration details with Address
This is the easiest method to Check Vehicle Registration Details with Address without downloading any app on your smartphone. By using this method you will be able to find out the following details:
Chassis No
Engine No
Body Type
Fuel Type
Colour
Name of Manufacturer
Make/Model etc.
This method is applicable for the following list of states
Himachal Pradesh – HP
Delhi – DL
Uttar Pradesh – UP
Gujrat – GJ
Haryana – HR
Punjab – PB
Maharashtra – MH
Rajasthan – RJ
West Bengal – WB
Chandigarh-CH
Andhra Pradesh – AP
Andaman & Nicobar – AN
Assam – As
Arunachal Pradesh – AR
Bihar – BR
Chhattisgarh – CG
Diu and Daman – DD
Dadra Nagar Haveli – DN
Goa – GA
Karnataka – KA
Jammu & Kashmir – JK
Jharkhand – JH
Kerala – KL
Lakshadweep – LD
Mizoram – MZ
Meghalaya – ML
Manipur – MN
Madhya Pradesh – MP
Odisha – OD
Puducherry – PY
Nagaland – NL
Tamil Nadu – TN
Sikkim – SK
Tripura – TR
Uttrakhand – UK
How to Use Vahan
Open the Browser in Your Smartphone or Pc and open this link
After opening the link you will see a text box to enter vehicle no. and verification code
Now enter the Registered vehicle number and verification code in those text field.
Then, you will see a new page consist of a box showing all the details of the vehicle.
That's it. You have successfully found out the vehicle owner information and registration details.
Following is the example of vehicle detail comes out using this method:-
Vehicle No DL_________ details found at ZONAL OFFICE, NORTH EAST DELHI,Delhi

Registration No:

DL________

Registration Date:

02-May-2016

Chassis No:

MAK********

Engine No:

L1********0

Owner Name:

Anshul Sharma

Vehicle Class:

Motor Car

Fuel:

PETROL

Maker / Model:

HONDA CARS INDIA LTD / HONDA CITY

Fitness Up to:

04-May-2031

Insurance Up to:

01-May-2017

Pollution Norms:

BHARAT STAGE III

RC Status:

ACTIVE
VAHAN is a very flexible and comprehensive system that takes care of all the difficult activities of Vehicle Registration, focuses to leave the Transportation department to focus on other important issues.
The software enables the processes at RTO/DTO/MLO/SDM involving Permits & Enforcement, Vehicle Registration, Fitness, and Taxes to get computerized.
other Services offered by VAHAN 
By using Vahan website/App you can also take advantage of other services offered by them. Regarding Fitness, Permit, Registration, Taxes etc.
Permit

Issue of National & Interstate Permit
Renewal of Permit
Vehicle Registration

New Vehicle Registration
Renewal of Registration
Transfer of Ownership
Change of Address etc.

Fitness

Issue of Fitness Certificate
Renewal of Fitness Certificate

Taxes

State-wise tax calculation & Payment

Enforcement

Issue of Challan
Settlement of Penalty Amount
Check Vehicle Registration Details with Address Using Drivespark Free Tool
Drivespark is one of the most popular media websites which provides daily automobile news, reviews and How To's. The website has introduced the vehicle information tool by which you can find out the vehicle details via registration number for free. To use this tool you have to follow the following steps:-
Open Browser in Your Smartphone/PC.
Then, open this link.
Now , enter the registration number in the given text field.
That's it, Now you will see the vehicle details on screen.
Check Vehicle Owner Name by Registration Number without PC/Smartphone (Non-Smartphone Users)
If you do not have a Smartphone or pc without and want to find out the car, bike or any other vehicle details then this method is for you using SMS.
Through this method, anybody can get details of the vehicle via SMS. Moreover, this method is applicable for all the Smartphone/Non -smartphone Users.
SMS Method
First, open the messaging section on your Mobile Phone.
Then select the Create new message and type the text in below format
Vahan "Number Plate Full Details"
Then you have to send this message to this number – 07738299899.
That's it you have successfully sent a message and you will receive vehicle details via SMS within a few seconds.
If you are facing any issues regarding Check Vehicle Vehicle Registration Details with Address then please write down your questions in the comment section. This post is regarding vehicle registration details if you are getting an error or any given method is not working for you then please let us know using the comment section.
All the methods included in this post to Check Vehicle Registration Details with Address are working fine and still, you are facing problems then comment down below.