Apple Warranty Check: Keeping your electronic devices in good working order is imperative. Even with premium manufacturers like Apple's high-quality products, things can go wrong. That's where your warranty comes in. Apple offers a 1-year Standard warranty on its products from the activation date. If any software and hardware issue comes to your device, you can visit your nearest Apple service centre and get it repaired at no cost. The service quality and experience of the Apple service centres are very premium. They hardly took 1 to 2 hours to solve issues on your device. If you need to remember the activation date of your device and want to know whether your device is still in the warranty period, then this post is for you. This post will show you How to Check your Apple Warranty Status.
Apple Warranty Check: Methods and Guide
Through Apple Coverage Site
The coverage Method is the easiest method to check the product warranty status of your device. Unlike the other manufacturers, Apple believes in the activation date rather than the date of purchase. Buyers can check the activation date to claim the warranty of any Apple device, including iWatch, iPhone, iPad, and Mac Devices.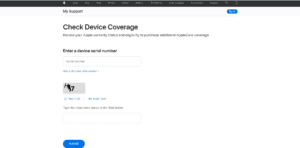 First of all, launch Browser on your device and Go to Apple's warranty status page at 

https://checkcoverage.apple.com/

Now, enter your Apple device's serial number in the provided field. The serial number can be found on the device's original packaging or by going to Settings > General > About device.

Then, Fill out the verification form.

Click on the Continue button.

 On the next screen, You will see warranty support status and coverage,
Once you complete these steps, the warranty status of your device will be displayed. This will show you whether your device is still under warranty, its coverage, and when it expires.
Using Apple's Support app 
The other easiest method to check the warranty of your device is using a support application. However, this method is limited to iPhones and iPads only.
Launch the app store on your iPhone or iPad.

Download and install Apple's official 

Support App

.

After successful installation, Tap on 

My Devices 

and select your device.

Now, Tap on 

Device Details

.

You will see either 

Limited Warranty 

or 

Coverage Expired 

in the Coverage Information section in the device details.
Also Read How to Change Apple Account ID Password
How to Check Apple Airpods Warranty
If you have Apple AirPods and need to remember the purchase date or lost the bill, don't worry. Still, you can claim the warranty of your AirPods if it's under the contract. Here's How to Check the warranty status of your Apple AirPods.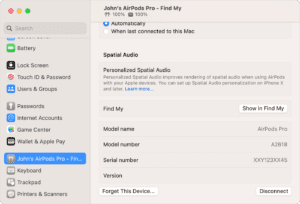 First of all, connect your AirPods with your iPhone or iPad.

After connecting, Launch the 

Settings

 app.

Now you will see your AirPods Device at the top of the settings menu. Tap on it

Then, you will see a list of information, including a Limited Warranty or expired coverage.
If you face any issues with your device and it is still under warranty, you can contact Apple Support for assistance with repairs or replacement.
Can I claim Apple iPhone/iPad warranty without a receipt or Bill?
Yes. The Warranty Receipt or Bill is optional for availing of the Apple product warranty as the service centre verifies the device's serial number to check whether it is within warranty.
That's all in this post on Apple Warranty Check. If you need help with any of the steps in the Tutorial Guide, comment below. Check our Website MyGadgetReviewer.com for more Apple tips and tricks like this.