Credit Cards Apps: In today's era, credit card has become a necessity for everyone from businessmen to students. It allows users to make purchases within the pre-approved credit limit. To get a credit card in India, You must have a bank account and other eligibility requirements. Almost all banks in India require a minimum age of 18 years and income proof (salaried or self-employed) to issue credit cards. Therefore it is difficult for teenagers or students to get credit limits for their daily needs and expenses. To solve this, there are now many apps available for everyone to get credit cards with low eligibility criteria. These apps are third-party and do not require a savings account from your bank. You can use these cards anywhere, anytime.
5 Best Credit Cards Apps in India
OneCard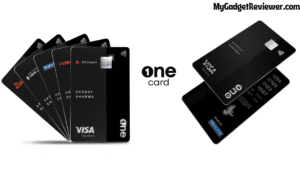 OneCard is a popular classy metal credit card fueled by technology powered by South Indian Bank. The Company is known for its Premium Metal Card which is quite unique from traditional cards. The Card is controlled by the app, users can apply for it through the application and get their e-KYC done sitting at their Home. The OneCard can be used at any shopping merchant, petrol pumps, malls, online gateways etc. It works like the typical credit cards issued by popular Banks. Moreover, Cardholders will also get reward points by paying through this card.
Also, it's a lifetime free card so users don't need to pay annual fees or hidden charges. The company also offers Fraud Protection to the holders which includes free insurance up to Rs 1 lakh in case of fraud. It is also a great card for foreign travellers as it offers the lowest forex fee @ 1% only. Apart from this, Users will also get a Fuel Surcharge waiver by using this card for their fuel.
Top Features of OneCard Credit Cards Apps
Free Premium Physical Metal Card Delivered at your doorstep.
No joining / Annual Fees Lifetime free card.
Only 1% Forex Fees Charge.
Reliable Card issued by South Indian Bank.
UniCard
Unicard is a great solution for salaried employees whose salary gets credited at an XYZ date but bills and expenses come any day. To solve your bills and expenses Uni Card offers Zero Joining Fee Lifetime free Credit card to its customers. The App has a unique model in which cardholder has the option to repay their expenses within 30 days or divide them in 1/3 interval. In the 1/3rd model, if a user spends 15000 in a month, then the cardholder has the option to pay it in 3 months i.e. 5000 per month for three months without any interest. Also, the cardholder earns 1% cashback on all the transactions and gets 5X more value than cashback at the Uni Store. Unicard also offers Zero Forex Markup without any fees. It's a Lifetime free card with No joining fee and No annual charges.
Top Features of Uni Card
3-month payment option at No Cost.
Zero Forex Markup.
1% Cashback on all transactions.
N

o joining fees and Annual charges
Jupiter Edge Credit Cards App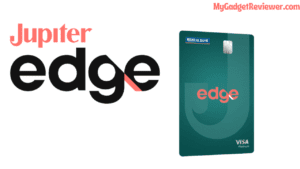 Jupiter has recently launched a new Edge Credit Card for Indian Users. To get this card you just need to install Jupiter App and apply for the card with e-kyc. Jupiter gives reward points in the form of Jewels with every transaction. These jewels are credited instantly and can be converted into real money or gold. The Edge Card recognises the top 3 brands of the billing cycle and gives its users 5 Jewels for every ₹100 spent. Moreover, it rewards 2 Jewels for every ₹100 spent on all other brands. Jupiter is also offering 4 free lounge access (Once every 3 months). However, Edge Credit Card charges a 2% forex fee on International Usage. The Edge Card Charges No joining Fees for the first year and from next year it charges 999/year (Free for 2nd year when you spend Rs 1.2 lakh or more in the previous year).
Top Features of Jupiter Edge
Instant Jewel (reward points) transfer to cash or gold.
4 Free lounge Access.
5% Cashback on top 3 brand spend.
Also Read List of Top 5 Best Apps to Earn Money Online
PayTm Credit Card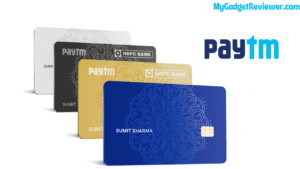 Paytm has introduced its credit cards in the Indian market in partnership with HDFC Bank and SBI. The Company markets its credit cards as "India's Most Rewarding Credit Cards". The PayTm Credit cards offer up to 5% Cashback to its holders. 5% Cashback on Movies and Travel, 2% cashback on recharges and Bill payments and 1% cashback on all other wallet spend. However, cashback will not be valid on wallet load and fuel spending. Cardholders will also get complimentary Airport Lounge Access along with Paytm Credit Cards.
Apart from this, cardholders can control their credit card through the Paytm App. The App features Spend Analyser, through which holders can View or manage category-wise spending, Lock/Unlock cards with just one tap and Control card tap to Pay/ International Payments/Online Payments etc. Also, Users can Reissue lost/damaged cards through the Paytm App itself, they don't need to visit any brand/office.
Top Features of Paytm Credit Card
Powered by HDFC Bank and SBI.
Can be accessed and controlled through Paytm App.
up to  5% Cashback on spending.
Complimentary airport lounge access.
Bajaj Finserv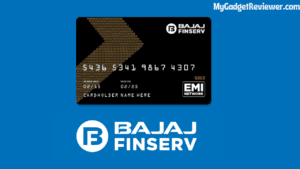 Bajaj Finserv App has been present in the market for a long time now and has over 40 million users. It's a quite popular card among youngsters for their financial and payment needs. It's a very easy-to-use app, which offers instant loans and credit cards Online. The Bajaj Finserv introduced its EMi Card a long time ago. It's a very different card from a regular credit card, as it's an EMI Card.  This card is applicable only to merchants that have a tie-up with Bajaj Finserv. The company has tied up will all the major e-commerce platforms like Flipkart, Amazon etcetra and over 40,000 offline stores. Through this application, you can shop online from 1 million+ products at no-cost EMI, manage your investments, and get/renew insurance. Users can also easily pay all their utility bills, recharge their mobile DTH, and transfer money using BHIM UPI.
Top Features of the Bajaj Finserv Credit Card App
No Cost EMI Option.
compatible with all Major E-commerce Platforms.
up to 2 Lakh Limit.
That's all in this post on Credit Cards Apps. If you are facing issues in using any of the apps then please comment down below. All the apps included in this post are tested by our Team and are 100% safe on both Android and iOS platforms.