5 Best Games Under 10MB for Android / iOS in 2023
Games of 10MB: Everyone likes to play games on their smartphone. Many people play games on their mobile phones to pass their free time or escape from stress or take a short break. If you are one of those people who love to play games then this post is for you. There are a lot of games coming up on the App Store these days, which are fun to play but huge in terms of size.  These games occupy the entire storage of your phone as you are not able to save other apps/media files etc. in your smartphone. On the other hand, there are some high-graphics games that are not compatible with certain devices. (due to less powerful processor and GPU).
In this post, we are going to tell you about the Top 5 Best " Games of 10 MB " to download for Android/ios in 2023. All the games mentioned in this post are fun to play and very light in terms of size.
5 Best Games of 10MB to Download for Android/ios in 2023
Dr Driving – Racing Game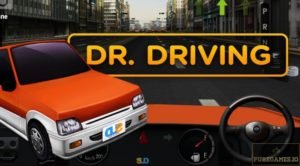 Dr Driving is one of the Best 10MB Games that you can download on your Android/ios Smartphone for free in 2023. It is developed by Studio Up Down Inc. and has more than 10M+ Downloads on the google play store. The game is very simple to play. It's basically a driving simulator in which you can learn how to drive, take turns etc. Consists of City Missions, and Challenges. The game offers realistic settings and features that many gamers appreciate. This is a very amazing game for users who want to play a light driving game with some real-like features.
Download Dr Driving for Android
Download Dr Driving For ios/iPhone
Racing Moto – Racing Games of 10MB
Recommended: Best DSLR Camera Apps For Android in 2023
Racing moto is our Another Pick for a 10 MB Game, in fact, the actual size of this game is 7.4MB on Google Play Store. It is very fun to play, a game and a total stress releaser. There are no missions and goals in this particular game. In this game, you only have to accelerate the bike and tilt the phone to control the motor direction. You have to make close calls with other vehicles while controlling the rider's direction to boost the speed of the bike. You have to earn points by scoring which can be further used to buy the upgraded bikes in the game. It is one of the Best Games within 10MB that you can download in 2023.
Download Racing Moto for Android
Download Racing Moto for ios/iPhone
Modern Sniper – Shooting Game of 10MB
The Modern Sniper is the lightest Shooting game available on Playstore as of now with great graphics. In this game, you are a sniper who has to kill enemies in silent assassin missions. It contains over 50 crime shooter missions to complete. Users can also choose his/her favourite map from 6 unique maps. The game consists of 7 different real-world weapons to choose from and Upgrade. The actual size of Modern Sniper is 10.5MB and over 50 Million + users have downloaded it so far. It is the best shooting Game under the 10 MB size limit.
Download For Android
Download For ios/iPhone
BMX Boy
Recommended: Best Gaming Laptops in 2023
BMX is one of the Best Games of 10MB available for both Android and ios Platforms. It is a kind of racing game in which you have to perform various tricks in the air, speed up the Bike, Jumping etc things to finish the line. In easy words, you just have to accelerate or jump over the obstacles on the road to score points. There are 3 different terrains and 90 cool addictive levels to play. The Game is developed by Runner Games and has over 50 million downloads on the google play store. It is the most popular arcade Games Under 10MB.
Download BMX Boy For ios/iPhone
Break the Prison 
Break the Prison is one of the most popular trending Arcade Games on Google Playstore. It is developed by Candy mobile and has over 10 Million Downloads on the play store. In this game, you need to devise an elaborate plan to escape the prison and clear the name of the character. You need to build up the tools, solve the puzzles and do many more tasks to escape from the prison. It consists of 40+ challenging levels in 8 different themed cells. Break the prison is one of the best Games of 10MB to kill your free time and take a break to release stress from work.
Download Break the Prison For Android
Download Break the Prison For ios/iPhone
That's it in this post of Top 5 Best Games of 10MB in 2023. If you have any suggestions/ facing issues in downloading any of the games listed in this post then please comment down below. All the 10 Mb Games included in this post are tested by our Team and are 100% safe for Download on both android / iOS platforms.