Airtel Postpaid Plans in 2020 with Price and Details
Airtel Postpaid Plans: Nowadays postpaid plans have become cheaper and most of the users are preferring postpaid over prepaid. Airtel is one of the most popular postpaid network providers in India. It is now offering most of the postpaid plans at a price of prepaid plans of other networks. The Network Coverage, as well as Internet Speed of Airtel connection, is far better as compared to Vodafone and Jio. Planning to buy a new postpaid connection and confused which plan to opt for then this post can be helpful for you. In this post, we are going to tell you about all the details about Airtel Postpaid Plans in 2020.
Like the Vodafone MultiConnection, Airtel is also offering a personal plan and family add-on plan service for its postpaid connection. In a personal connection, only one person will use the plan services. Whereas in Family Addon, more than one person can subscribe to the same plan and enjoy the services. Which means that family members are not required to subscribe to different plans, only one plan can be shared between different family members based on usage. This results in the saving of money and no frustration of frequent recharge.
Postpaid vs Prepaid
As the name suggests postpaid means pay the bill after using the service. On the other hand, In Prepaid connection, Users have to pay first and then use the service. Earlier In Prepaid Connection Airtel users used to recharge their SimCard to get the services. While in Postpaid Connection Airtel users used to pay according to their usage. But now users have to choose the plan according to their usage and pay according to it in both the cases. The difference is that in Airtel Prepaid you have to recharge first. And in Airtel Postpaid you have to pay according to the monthly bill cycle.
Recommended: List of  Vodafone Postpaid Plans in 2020  
Pros of Postpaid Over Prepaid
Price– Airtel is offering Postpaid plans at very value for money rates. There is a benefit of unlimited calls to any network and SMS within the plan. Which makes postpaid plans a better package over the prepaid.
Monthly Bill Cycle– In Airtel postpaid, Subscribers have to pay the bill after using the services which mean You do not have to recharge frequently and pay according to the bill.
Family Add-on Option– In Airtel Postpaid, you get Family Add-on plans option. These plans can be shared with family members according to the usage and number of connections. It is a proper value for money package for multiple users of the same family.
Cons of Postpaid Over Prepaid
Changing the Plan- In Airtel postpaid connection, Subscribers prefers to opt for Packages instead of Monthly Bills such that changing the plan, again and again, leads to unnecessary fees, charges and penalties.
High Bills-In postpaid Connection Subscribers have to pay the bill according to usage, whereas in prepaid users have to select on the basis of usage. This results in high bills as compared to prepaid.
Airtel Thanks Benefits (Free With All Plans)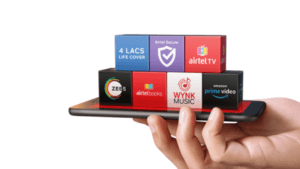 Airtel is offering several benefits with its Every Postpaid plan. These benefits include One Year Amazon Prime Subscription, ZEE5 Subscriptions, Subscription to Airtel XStream App and Handset protection. In Airtel XStream app you can take advantage of Airtel Services like Wynk Music, Movies, Live TV much more Exclusive Content for Free. All these are the premium services which you can use for free by subscribing to any of the Airtel Postpaid Plans. Airtel Thanks Full Information.
Airtel Postpaid Plans in 2020 with Price
Postpaid Plans for Individual
Rs. 499 Plan (Basic Plan)
The Rs.499 Monthly Rental Plan is the cheapest and basic postpaid plan currently on offer by Airtel in India for Individual Subscription. The plan offers Unlimited Calls STD+Local and National Roaming Calls. In terms of Data, Subscriber will get 75GB Monthly Data with Rollover. (Rollover means the previous month unused data will be added back to your account which can be used next month or any time you need). If your Data Requirement is higher than 75GB then you can also buy extra Smartbtes of data from Airtel Thanks App. The plan also includes Airtel Thanks Benefit which includes premium services free for Airtel Users.
Family Add-on Postpaid Plans 
Airtel offers two types of Family Add-on embers. 1) Regular member. 2) Data Add-on Member.
The regular add-on member can share all services including Airtel Thanks benefits, unlimited calling etc. which can also be used by primary members. While a data add-on member can only share data within the plan. Primary members can also set a data limit for both regular members and data add-on members according to usage. For More information Visit One Family One Plan official Site.
Rs. 749 Family Add-on Plan
It is the basic family Add-on Plan in which you can add up to 2 Family Members (1 Regular and 1 Data Add-on). The plan offers Unlimited Calling Local + STD with Free Roaming, Airtel Thanks Rewards and 125GB Monthly Data that can be shared between the Members. This is the best plan for moderate users as each user will get 41GB of data per month if three users are sharing the plan.
Rs. 999 Family Plan 
The 999 plan is another family add-on plan that can be shared with 4 family members add-ons (3 regular + 1 data add-ons). This plan includes unlimited local + STD calling, free Airtel subscription and 150GB monthly data with free-roaming. The Plan is suitable for users whose data consumption is not high and consists of 4–5 family members. The Plan costs about Rs. 200 per person and each member can get up to 30GB of data per month (limit can be set by Primary Subscriber).
Recommended: Jio Postpaid Plans in 2020
Unlimited Plans
Rs. 1599 Unlimited Plan 
It is currently the one and only unlimited postpaid plan by Airtel. The plan can be shared with a regular member and includes Airtel Thanks benefits, Unlimited local + STD Calls with Roaming and Unlimited data. There is no limit to data, both members can use as much data as they want. The plan is best suited for users whose data usage is very high. It will cost around 800 per person and is currently the cheapest Unlimited Plan by any network provider in India.
You can also order New Airtel Postpaid Connection Online via Airtel Postpaid Online Store for Free.
If you don't want to change your current number and want to port in Airtel Postpaid you can also do this online by visiting Airtel Superhit Switch Service. You just have to select the plan and confirm the port-in request. Then Airtel Executive will visit you, take your details and deliver your SIM with Active Subscription. If you want to port from Airtel Prepaid to postpaid you can simply visit this link and apply for the same with Sim Delivered to your Home for Free.
That's it in this post of Airtel Postpaid Plans in 2020. If you have any doubt/suggestion, write in the comment section below. For More Information regarding Postpaid Connection please visit Airtel Official Site.