Best DSLR Camera Apps for Android
Best DSLR Camera Apps for Android: Are you bored with that Stock camera App in your Smartphone and want to Capture DSLR like photos from your Mobile then this post is for you.
In this post, we are going to tell you about the DSLR Camera Apps which you can download in your Android Smartphone via Playstore and Capture the DSLR quality of photos. The cost of a good DSLR camera nowadays is more than Rs.25,000 or $400.
While in such amount a person can easily buy a smartphone on which he/she can capture photos, play music, make phone calls etc etcetera. So an ordinary person who is not a photographer really needs to buy a DSLR camera? The answer is no.
But the truth is that mobile phones are not capable to capture DSLR quality images. There are the users who like to capture photos and can't afford the DSLR, for those users we have a solution through which you can capture almost DSLR Quality of photos through Smartphone using DSLR camera app.
Well, these apps are very different from the mobile's stock camera app, as they are more feature-loaded and have functionalities to give much better output as compared to the stock app. The main functionalities of DSLR cameras are to deliver object focused and sharpen images.
All these apps are capable to deliver better images than regular images and you will notice a drastic change in captured images by using these apps. However, these apps will not deliver exact same DSLR level images but you will feel the quality of images captured using the app, will meet almost DSLR level output.
DSLR Camera Apps for Android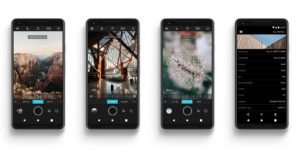 Following are the Free DSLR Camera apps which you can download via Playstore or by visiting the given link.
DSLR Camera Blur Effects
The DSLR camera Blur effect is one of the best DSLR camera apps you can download for your Android smartphone.  It is offered by Photo Cool Apps Company and offers great features. Through this app, you can capture the DSLR level of images by using different tools offered within the app.
It offers 4 types of multiple blur tools. These tools can be used according to user preference. If you want to focus circular area then Circular Blur tool can be used. To Focus on linear Area, line blur can be used. For Shapeless objects, Touch to Focus or Touch to blur options can be used by the user.
The DSLR Camera Blur Effects App also offers some great blur effects which you can use to get that DSLR effect in your images. There are five blur effects present in-app Motion Blur, Gaussian Blur, Line Blur, Box Blur and Pixel Blur effects.
App Features
Full or Part Wise pixelation
Part Wise or Full Blur
Blur image background effect.
Shallow focus photo in the background of the image.
Instant share on Social Network like Whatsapp, Instagram, Facebook, Twitter etc.
Blur the unwanted part of the picture.
New Camera Pro – DSLR Camera App
The New Camera Pro offers great camera experience to the user. Its developers claim that this app will turn your phone into a professional camera, which will take your photography skills to the next level. The app also offers fast camera mode to give a fast camera performance to capture images immediately without any wait time.
New Camera Pro app offers full control over the exposure settings, focus, white balance, ISO just like the professional camera to capture DSLR level of images from your Android smartphone.
New Camera Pro App Features:
Compare with original photo Full Time
4K video recording on a supported device, turn your phone into the 4k camera
Remove with multi-touch gesture and single-touch control.
+200 unique shaped frames to perfect your photos.
Option to lock the photo or 4k video in portrait or landscape orientation.
Adjust shutter speed
Manual focusing distance; manual ISO
Flash mode feature. Brightness, exposure setting
Manual Camera Lite
The Manual Camera lite is a free and lite version of manual pro camera App. It has all the features of the just pro version but has some restrictions like resolution for images up to 8MP, video up to 1080p, and maximum recording duration is up to 5 minutes.
It offers features like adjust ISO, shutter speed, exposure control, manual focus and record videos in high resolution. This app will take the photography skills of android users to the next level. Manual camera lite is available on play store for free and you can download it for any android device.
Features
Control exposure, Whitebalance, Shutter speed
Manual ISO and focus controls
Real-time filter/colour effect
4K camera recording (on supported devices)
Timelapse / fast motion , Slow-motion video Recording
O2 CAM
The O2 CAM is another DSLR Camera app for Android to enhance Smartphone Photography. It is one of the best apps for Android because it has Smart AI Feature. Smart AI is a brand new algorithm that helps to automatically enhance and adjust photos according to the environment photo has taken.
Well, this app focuses on a person's beauty, which means you will get great output when you capture selfies through this app. It also offers adjustments settings such that you can adjust the brightness, contrast, saturation etc of the images.
Recommended: Top 5 best and cheapest DSLR Cameras to buy
Manual Camera- Professional (ProCAM) – Paid DSLR Camera App for Android
The Manual Camera ProCAM is the paid version of manual Camera Lite. It can be easily downloaded from the Google Play Store at Rs. 330 or $4.7.  We recommend you to first try out the lite and free version of this app and then move towards the paid one.
The pro version removes the restriction of up to 8MP Image, 1080P Video recording and 5 minutes of recording. By installing proCAM you can record 4K UHD Resolution videos, if you are a YouTuber or want to upload videos on youtube then this is the perfect app for you.
Manual Camera ProCAM Features
4K Video Recording
Adjust ISO, Brightness, Exposure etc
Shutter Speed Adjust
Realtime Photo Filter
Location targeting
Face detection / facial recognition
That's it in this post of DSLR Camera Apps for Android. If you are facing issues in downloading any of the apps then please comment down below. All the apps included in this post are tested by our Team and 100% working in any android phone.