List of Electric Cars Available in India in 2020 with Price
 Electric cars in India: As the Petrol and Diesel Prices Increasing in India Day by Day, and Global Warming rising to the Alarming Levels. People are looking forward to Electric Cars. They're not so many Electric Cars available in India right now, such that people are going with the Hybrid Cars which are not fully electric. If you are Looking for Electric Cars in India right now then you are at right place. Here is the List of Cars which available in India and runs on Battery only.
Tata, Hyundai and Mahindra Electric Cars in India in 2020
Mahindra E2o Plus Electric Car India
Mahindra E2o Plus was launched back in 2016, the car was launched in Three Variants P4, P6 and P8. However, Mahindra has discontinued the P8 Variant in some cities. Now Mahindra E2o Plus is available in 2 Variants and 5 Colour Options. The car name stands for energy to oxygen (e2o). The Mahindra e2o Plus comes with 4 Door which makes it more practical and comfortable in getting in & out of the car.
Coming to the Engine, Mahindra e2o Plus comes with Electric Motor which generates power of 25 bhp @ 3500 RPM and Torque of 70 Nm @ 1050 RPM. While the Drivetrain is Rear wheel drive. The E2O Plus is available only in Automatic Transmission and the top speed of the car is 85Kmph. The car takes up to 5 hours to get fully charged, and once it is fully charged, it delivers a range of up to 140Kms. There is a fast-charger option that charges the battery to 90% within 90 minutes, the only downside of the Fast Charger is that it costs Rs 6 lakhs more than the regular price of the car itself.
Talking about Safety, Mahindra e2o Plus lacks in Safety features, Even the P6 Variant which is the top variant lacks the Airbags and ABS Option. If you are looking for a car to travel in City only then Mahindra E2o Plus is a great option. It is more Practical and runs on Battery.
Price: P4: ₹ 7.76 Lakhs Avg. Ex-Showroom
P6: ₹ 8.52 Lakhs Avg. Ex-Showroom
Mahindra e-Verito Electric Sedan
Mahindra e-Verito Sedan was launched in June 2016 in India. e-Verito comes in Three Variants E D2, E D4 and Top of the line E D6. The car is currently available in only one Colour option which is Diamond White. The Mahindra e-Verito is the Sedan version of e2o Plus with some improvements and offer more features.
Coming to the Engine, e-verito comes with 72V 3-phase Electric Motor which generates power of 41 bhp @ 3500 rpm and 91nm Torque at 3000 rpm. The car comes with Automatic Transmission only. It delivers the range of 110 km when fully charged and the charging takes almost 8 hours. Also, there is a fast charger option available in top variant E D6 only which takes 90 minutes to charge the battery fully. The Downside is that fast charger costs Rs 6 Lakhs more than the car itself.
Talking about safety, e-Verito gets ABS, Driver Side Airbag and EBD for safety purpose. E-verito is perfect city Family car for the buyers who are looking for Electric Car.
Price: E-D2: ₹ 10.91 Lakhs Avg. Ex-Showroom
E-D4: ₹ 11.14 Lakhs Avg. Ex-Showroom
E-D6: ₹ 11.30 Lakhs Avg. Ex-Showroom
Recommended: Most fuel-efficient diesel cars in India in 2020
Hyundai Kona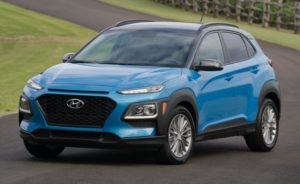 Hyundai Kona is the first electric car introduced by Hyundai in India. It is the new Electric SUV with up to 450Kms of range and most feature-rich proper electric car in India as of now. Also, there is a new price cut in the prices of Hyundai Kona Electric. As the government has reduced taxes and providing subsidy to electric car owners. If you are planning to buy an electric car under Rs.25 lakh of budget then we will recommend you to go with Kona. As Hyundai is the most trusted brand in India and its service network is also very wide. You will not face any issues regarding its Parts and service.
The Hyundai Kona Electric also get all four Disc Brakes. Both at the front and rear which makes this car safer. It generates a maximum power of 134bhp and 395nm of torque. It comes with all the bells and vessels like electric sunroof, Leather Ventilated Seats, 8-inch infotainment system with Android Auto and Apple car play etc. Kona is also the safest electric car in India as of now as it offers 6 airbags standard.
Price: Premium: Rs. 23,71,858 (Ex-Showroom Delhi)
That's it in this post of electric cars in India in 2020. If you have any questions regarding Electric vehicle then please comment down below. Also, there is news that new electric cars including Maruti Suzuki wagon R EV Electric, Tata tiger EV and Tata Tiago Electric launching 2020, after the official launch we will include them in this post as well.