Fancy Number in BSNL: We all want a VIP or fancy number as our mobile number. But there is no option or very limited option for the general public to choose the number of their choice. But BSNL subscribers have the facility to choose the number of their choice as their mobile number.
BSNL is the only telecom network to introduce CMN (Choose My Number) feature for its subscribers in 2011. At the time of its launch, it was available to a limited number of states, but now the facility is available in all regions. BSNL service is available. If you are also searching for how to select a mobile number then this post can be helpful for you. In this post, we are going to tell you about How to choose" Fancy Number in BSNL " Online.
Recommended: BSNL  Broadband Plans Prices in 2020
How to Choose/Select Fancy Number in BSNL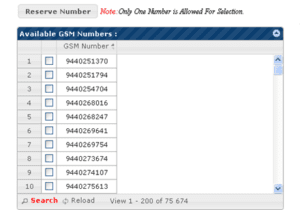 Open BSNL CMN official website by visiting this link http://cymn.bsnl.co.in/
Then, Select your zone and state where you stay.
Then, You will see a table with records of Available numbers with Prices.
Now, You will see two options 1) ChoiceNo. And 2) Fancy Numbers at the top of the table. Select Fancy Number option if you need a fancy number. or Select Choice No. if you need a number of your choice.
In the fancy number option, you can also search for your favourite fancy number by selecting Search By Series option placed above the table structure.
Now, select the number you like and then click on the fill application. (If you are 100% then you need that number with fixed price). In Case you want to reserve the reserve, select the reserve option.
Then you have to enter your existing mobile number to receive pin via SMS from BSNL officials
Now the customer has to contact the nearest BSNL customer service branch and provide the details of SMS and PIN. Pay the fancy number price and complete all formalities.
Done you have successfully selected your choice of Fancy Number in BSNL. 
Recommended: Reliance Jio Postpaid Plans in 2020
Important Guidelines
 Maximum One Selection is limited to each Customer.
The Customer has to pay Fancy Number Price at the time of taking the Number at BSNL Customer support only.
This Scheme is available for GSM Numbers Only.
The customer will receive a 7 digit PIN via SMS which will be valid for 48 hours and should not be shown to anyone except the executive of BSNL.
Fancy Number Price if Fixed and Inc Tax.
That's all in this post of How to choose Fancy Number in BSNL Online. If you are still facing any issues or number related problem then please write down in the comment section below. Check our Website MyGadgetReviewer.com for more latest tips and tutorials like this.