How to Check IMEI Number: IMEI (International Mobile Equipment Identity) is a 15-17-digit code used to find the details of a mobile device on a network. It is used to identify the device's country of origin, warranty information, purchase date and find the stolen or lost phone.
There are many Smartphone manufacturers Like Apple, use this identity number to approve warranty status. Through this number, you can secure your lost phone by locking the device remotely. In this post, we will show you How to Check IMEI Number. Apart from this, In case you have lost your device bill or don't remember the purchase date then you can check it through IMEI.
How to Check IMEI Number
Check on the Device Box
In case your device is lost or stolen don't worry you can easily find your device's IMEI number through its original box. All the Smartphone Manufacturers provide their products with all the information that a customer needs to know about the device. Every smartphone comes with a user guide, warranty information guide and other documents as well. The IMEI number is one of the important identities for tracking phones. So manufacturers list the product's IMEI number on the Box as well. Generally, it is printed on the rear outer side of the box. The invoice also contains the IMEI number as well.
Using USSD Code
In case you don't have the original Box or Invoice of the device, Don't worry you can still find the IMEI number through the USSD Code.
First of all, Launch the Dialer App on your Device or simply go to Dialer.
Now, Dial *#06#
Then, you will see a popup with your device's IMEI Number.
This method works in all types of devices including feature phones. Furthermore, you can take screenshots of the popup for further use.
Check IMEI Number on Android
Launch the Settings app on your Android phone.
Scroll down and tap on About Phone / System Info > About Phone.
Now you will see all the information related to your Device including IMEI Number..
How to find the IMEI number on iOS:
iPhone, iPad or iPod touch Users can check the IMEI number through these steps:
Find before setting up your device
In case you have not set up your device yet then follow this method:
Switch ON your Device by pressing the Power Button.
Hold the Power button until the Apple Logo Appears.
then you will see "Hello" in various languages.
On Hello Screen, you will see i (information icon) on the bottom right corner of the screen, tap on it.
The number will pop up after tapping the icon.
Find After setting up your device
For an Already set iOS device, follow these steps: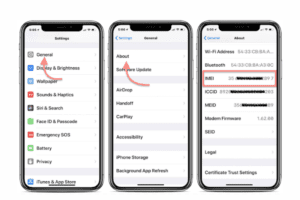 Launch Settings.
Go to General and tap About.
Now you will see a list of Numbers Like Serial, Model Number, iOS Version etc. Scroll Down to See the IMEI Number. Touch and hold the IMEI number to copy.
also read How to Know Apple Products Warranty Status
Faqs on IMEI
Can I Change my Device's IMEI Number
No, You can't change your Phone's IMEI Number. However, it might be possible to change it but may void your device warranty and cause other issues such as network problems and software issues.
Can the IMEI number be tracked if the phone is switched off?
No, the Phone Tracking works through GPS and for GPS your device needs to be ON.
Does IMEI number be tracked without SIM?
Yes, the Device can be tracked without a SIM Card using GPS-based tracking.
That's All in this Post on How to Check IMEI Number. In case you are facing issues while Finding your IMEI with the listed method then please comment below. Check our Website MyGadgetReviewer.com for more smartphone tips and tricks like this.