How to Disable Push Notifications on the Web
Push notifications are a valuable feature to instantly get updates, alerts, offers and more useful information. These notifications are received when you are online or your browser is running on the device. The Apps or Websites send such notifications to promote their offers, repeat visits, user retention and re-engagement. However, it can be frustrating to receive a lot of pop-up messages in all of your device's browsers. Such that many people want to stop these popups. If this is also one of your main concerns then this article may be helpful to you. This post will show you How to Disable push Notifications on the web. There are several ways to make or prevent these pop-ups less invasive. But we are sharing the simplest and only for browsers.
How to Disable Push Notifications on the Web
Stop Notifications in Chrome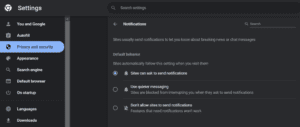 Google Chrome enables notifications by default, such that you get too many notifications from websites without enabling it from your end. Like other browsers, Chrome also allows you to disable these alerts using its setting option. Users also have the option to fully mute all the notifications or receive the important ones only by marking the exceptions sites.
First of all, launch the google chrome browser on your device.
Now, Go to the customize and control option by clicking on the Three Vertical dot icon on the right corner of the address bar.
Click on the Settings option.
then click on the Privacy and Security Settings from the left menu.
Scroll down and find the Site Settings.
In advance settings, Select Content Settings under the Privacy section.
Now, you will see notification settings, then click on Manage exception.
Here you can Block the websites from which you don't want to receive notifications anymore.
Disable Push Alerts for Safari on Mac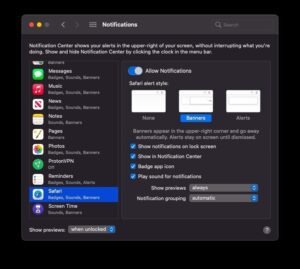 In the first step, Go to Safari.
then, click on the Preferences menu.
In the preference option, select the Notifications option.
Here, you will see a list of sites you visit, click on Deny for the sites you don't want to receive notifications from.
Done, you have successfully stopped push notifications on Mac.
Also read How to Fix Download Pending in Play Store
Stop Notifications in Mozilla Firefox, Microsoft Edge and Opera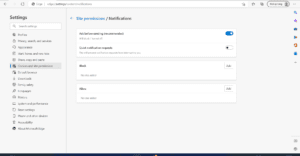 To stop alerts, launch the Web browser on your pc/laptop.
Click on customization by clicking on the three-dot icon.
In customization, click on the preference (for opera and Mozilla firefox) or select the advanced settings option (for Microsoft Edge).
Now, you will see Notifications settings, click on it.
In notification settings, make changes for sites that can and can't send you notifications.
That's all in this post on How to Disable Push Notifications. If you are facing issues with any of the steps listed in this Guide then comment down below. Check our Website MyGadgetReviewer.com for more Web tips and tricks like this.