In this post, we will show you the 5 Best Pay Later Apps in India. These apps are very different from credit cards because they may not affect your credit score and are not operated by banks. After making transactions through these applications, you have an interest-free period to repay the total amount at the end of the month or on the dedicated bill payment date. If you fail to repay the bill on the due date, you only have to pay the late payment fee.
Advantages of Pay Later Apps
Instant Credit Limit – Instant Emergency bill payments and pay them next month.
Safe Payments – 100% Secure Payments approved by RBI and low transaction failure rate.
Pay in EMIs – Some apps provide interest-free credit with the No Cost Pay Later EMI option.
Improves Credit Score –  More Credit Transactions and timely payments improve your CIBIL.
No paperwork – 100% Digital Process with minimum eligibility criteria
Disadvantages of PayLater apps
Impacts Credit Score – Negative impacts your credit score in case you fail to repay your dues on time.
Limited Merchant Network – not all online shopping platforms and offline stores accept this mode of payment.
Late Fees – High Late Fees in case payment is not made on time.
Top 5 Best Pay Later Apps in India
Simpl
Simpl is the most popular Pay Later app requiring no paperwork or information. It requires only your phone number to create your account with instant approval. The app has an instant pay model and has tie-ups with 26,000+ online merchants. You just need to download the Simpl add from the app store and sign up to get instant account approval. Currently, the app is offering instant credit of up to Rs 25,000.
After approval, you can connect your Simpl account with supported online merchants and utility companies for your daily shopping needs. It offers a one-tap payment checkout and doesn't require OTP for transactions.  All the transaction amounts will be forwarded to your Simpl account. The app lets you Clear your due balance every 15 days through the Simpl app. Apart from this, Simpl also features the Manage your Utility Bills option, through which you can pay your bills and recharge with one tap. Simpl also offers great discounts and cashback to its customers regularly.
Pros of Simpl
Instant credit of up to Rs 25,000
Supports 26,000+ online merchants
Does not Affect your Credit Score
Instant Approval with mobile number registration
Available for All users
One Tap Fast Payments without OTP
No Activation Charges/ Annual Fees
Cons of Simpl
Not accepted at offline stores
Limited Merchant Acceptance
High Late Fee Charges
Download Simpl App for Android
Download Simpl App for iOS/iPhone
LazyPay – Instant Credit Pay Later Apps
LazyPay is another popular Buy Now Pay Later service that offers instant credit at no interest. With LazyPay, User gets an instant credit limit of up to Rs 10,000 that can be used across 45,000+ online stores and merchants.  The user has the option to repay the due amount every 15 or 30 days. Apart from this, user can also pay for their water bill, gas line, gas cylinder, DTH, FASTag, broadband, recharge, electricity bill etc. It also works on a one-tap payment option, such that you don't need OTP or CVV and complete transactions in no time. The app regularly runs discounts and offers on various merchants like Swiggy, Zomato, Myntra, Zepto and more. Users can also avail no-cost EMI from major e-commerce platforms.
Lazy Pay also offers Instant Personal Loans to its users. With a personal loan, Users can instantly borrow a credit limit of up to Rs. 5 lakhs. The borrower can opt for an Annual Repayment Period of 3 to 60 months with a Percentage rate (APR) between 15% – 32% on a reducing balance basis.
Pros of LazyPay
Instant Credit Limit with instant approval.
Offers Instant Personal Loans up to 5 Lakhs
No Hidden Charges and No annual fees
Improves Credit Score
Cons of LazyPay
High Late Fees
Impacts Credit Score in case of late payments
Interest Rate is very high for personal loans
Download LazyPay for iOS/iPhone
Paytm Postpaid
India's largest mobile payments and commerce platform Paytm, has recently started its Postpaid Service which enables its users to Paytm Now Pay Later. The PayTM postpaid is available for all Paytm users and does not mandatorily require proof of employment. However, the User needs to have a PAN card and must be older than 20 years to get approval for PaytmPostpaid. To Register, you need to complete online KYC verification through CKYC or an Aadhaar number,, It fully online process and does not require any paperwork. After successful approval, the User gets up to ₹60,000 instant spend credit (based on credit score) at 0% interest. Also, there is no activation fee to activate your Postpaid account.
The Postpaid Service from Paytm supports 1.5 Cr+ shops across India and all major shopping sites. Like other pay-later apps, it also has a single tap hassle-free payment process. Users can use this credit limit as they use the Paytm wallet. This means you can use it at any shop that accepts Paytm, recharge mobile, metro recharge, DTH, book movie tickets from Paytm and more.
Moreover, this service follows a billing cycle of 1 month. All the transactions bill generated on the 1st date of the following month and payment is due by the 7th. However, the User also has the option to pay the bill anytime in advance. In case you don't repay the bill, then you need to pay the late fee, which ranges from 0 to Rs 750 plus GST and also result in a negative impact on your credit score.
Pros of PayTm Postpaid
Supports 1.5 Cr+ offline shops across India
upto Rs 60,000 Instant Credit
No activation Fee
Safe and secure
One-tap payment process
Cons of PayTm Postpaid
Charges convenience fee of 0% to 3%
For Paytm users only
Affects Credit Score in case of late payments
Late fees range from 0 to Rs 750 plus GST
Flipkart Pay later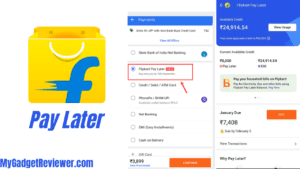 India's Biggest e-commerce platform – Flipkart also provides a pay-later payment option to its users. The Company provides up to 1 lakh instant credit limit (based on the customer history)  which you can use to purchase products and pay bills through Flipkart only. This credit limit can also be used on Myntra and Shopsy as well. Not only shopping, Flipkart Pay Later also lets you make utility bill payments for gas, electricity, postpaid mobile bills, and more. It features A single Click Check out the process for hassle-free payment you just need to verify the OTP received on your registered mobile number.
Also Read Best Credit Card Apps in India
To activate Flipkart Pay Later you need to enter your PAN & Aadhaar details, verify your Aadhaar with OTP and verify your bank account details. Flipkart Pay Later also enables its users you make split payments at the time of checkout.  Users can make zero or minimal payments at the time of checkout and pay the remaining balance later. For Example, If a user wants to complete ₹15,000 worth of purchases, but their Pay Later credit is just ₹10,000. Then they can use the Pay Later credit to pay ₹10,000 next month or in EMIs and make an upfront payment of the remaining ₹5,000 right away using their preferred mode of payment UPI/Credit Card/ Debit Card. However, Flipkart charges a minimal convenience fee for using their PayLater service.
Pros of Flipkart PayLater
Flexible split payment option
purchase products from Flipkart at interest-free no cost EMI option
Easy to Use no third-party app requirement
Cons of Flipkart PayLater
the very low credit limit
Supports Flipkart and Myntra transactions only
Download Flipkart for iOS/iPhone
Amazon pay later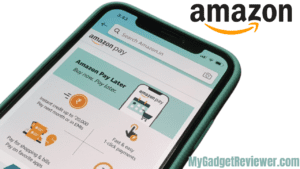 Like Flipkart, Amazon also offers pay-later services to its customers. It's a hassle-free payment service to get instant credit to make purchases from Amazon only. Customers can avail Amazon Pay Later payment feature at the checkout page and pay for it next month at no additional cost or over EMIs ranging from 3 to 12 months at minimal interest. The company won't require Credit card details for activation and there is No processing or cancellation fee and no pre-closure charges for availing of this service.
To Activate your Amazon PayLater Account you must have an Amazon account with a verified mobile number, a valid permanent account number (PAN) card and Address proof (driver's Licence/Aadhaar/voter ID). However, the minimum 23 years of age limit is required to activate pay later. The Credit Limit can be used to buy products from Amazon, Amazon Grocery purchases, pay bills, recharge, book movie tickets and more from Amazon and Amazon Pay.
Pros of Amazon PayLater
Instant Credit with EMI option
No Processing / Activation fees
Easy Process
Cons of Amazon PayLater
Limited to Amazon Only
Min 23 years of age is required
Download Amazon for iOS/iPhone
That's all in this post on Pay Later Apps. If you are facing issues in activating any of the apps then please comment down below. All the apps included in this post are tested by our Team and are 100% Safe for Making Payments.