Jio Fiber Plans: Jio has revamped its new fiber plan. In addition, users can now take a 30-day free trial and if they do not like the service they can return it and, the company will withdraw it at no additional charge. The company has also removed the FUP limit from all its fiber plans and packages, which means all the plans would be truly unlimited. With the new plan, users will now get 12 app subscriptions including Netflix, Hotstar, and Amazon Prime. In addition, all plans will now have symmetric upload and download speeds.
Benefits of Broadband Connection
During the COVID-19 pandemic, people around the world are working from home. The biggest problem that users face at work from home is internet speed. Only Through the Internet, office work can be done from home. Although some people use their phone data by connecting their laptop/desktop using their smartphone's hotspot. But we all know that the internet speed of most mobile networks is usually very slow and not capable of doing office work. Students are also studying through online classes which require high-speed internet. On the other hand, nowadays people prefer to watch web series, movies and TV shows on OTT platforms Like Netflix, Prime Video, Hotstar etc. Which requires a lot of data and high internet speed.
Broadband service is commonly used for all these activities. If you also want to get a new broadband connection in your home, then this post can be helpful for you. In this post, we will give you all the information about Jio Wifi Plans in 2023. Jio is India's most subscribed network. The company launched its broadband service Jio Fiber in September 2019. If you are planning to buy a new broadband connection then you can also consider Jio. The speed of the Jio Network may vary from area to area and be subject to technical feasibility. Please visit the JioFiber official site to check out whether Service is available in your area or not.
Benefits of JioFiber Wifi Connection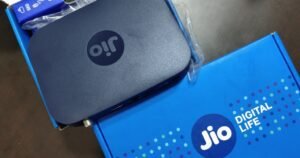 JioFiber service is entirely different from other broadband providers. With the Every Jio broadband connection, you also get a set-top box that you can connect to your TV and stream content online. The company is also offering subscriptions to all the popular OTT Platforms. In addition, it is one of the few providers to offer 1GBPS internet speed in India. It also includes Wifi calling through which you can make phone calls directly through your smartphone even without a landline instrument.
Installation and Charges
After you book your Jio Fiber connection, a Jio executive will come to your place and you will have to transact the amount online. This amount will include a security deposit of Rs 1,500, which will be refundable whenever you terminate the connection, + 1,000 Setup Box Security Charges (Refundable) + Plan Subscription Charge. For example, if a user subscribes to a Gold plan, they will have to pay Rs 3651 approx (1,500 security deposit + 1000 set-top box installation charge + 1151 for a 1-month silver plan subscription).
Within 24 hours of completing the booking transaction, the Jio Engineering Team will arrive at your location and establish a broadband connection. Typically, the installation process only takes 1-2 hours. You will also get a Jio set-top box that you can connect to your TV using the HDMI port and stream content using your new WiFi connection. All the plans include Unlimited Wifi Calling through Jio 4g Voice App.
List of Jio Fiber Plans in 2023 Wifi Broadband Connection
Basic Bronze Plan – Cheapest Jio Fiber Plan
The Bronze plan is the basic and cheapest Jio Fiber plan available right now. It offers Truly Unlimited Data per month at a speed of 30MBPS (varying from location to location) at a monthly rental of 399 + GST. Jio has introduced truly unlimited plans with a commercial usage policy (CUP) which offers 3300GB of data but it's More than Enough for most of the users. The basic plan includes unlimited local / STD calls, free subscriptions to JioCinema and JioSaavn where you can listen to 55 million songs and watch 10k + movies. However, You will not get 4K setup box and OTT Apps subscription with this Pack. New Buyers will have to pay Rs 1500 One time Refundable Amount to get a new connection.
Recommended: Airtel broadband Plans with Prices
Silver Plan – Best Value for Money Jio Wifi Plan
The Silver Plan is another popular plan from Jio. This plan fulfils all the needs of most Normal Users who do not require a subscription but need high-speed internet. JioFiber Silver Plan offers Truly Unlimited Data per month at a speed of 100Mbps. However, You will not get 4K Set-top Box and OTT Subscriptions with this plan. The monthly rent of the Silver pack is Rs. 699 + GST.
Gold Plan – Best Value for Money Jio FIber Plan
The Jio Broadband Gold plan is the best and most value-for-money plan for users who like to stream movies and TV shows on their devices. From Gold Plan Onwards, Users will get a free subscription to 11 OTT platforms including Amazon Prime, Display + Hotstar, Sony Liv Premium, Zee 5, Voot etc 11 OTT apps worth Rs 1,000 without any monthly limits. In this plan, you will also get Truly Unlimited Data. The internet speed of this plan is 150Mbps. The monthly charges of this plan are Rs 999 + GST. With Gold Plan onwards Users will also Get a Free 4K Set-Top Box to run OTT Apps on their Television. New Subscribers will have to pay Rs. 2500 One-time Refundable Charges for installing New Connection.
Diamond Plan
The Diamond plan is the High-speed plan of Jio Gigafiber. The plan also includes membership in all OTT platforms including Prime Video. Also, From Diamond Pack Onwards Users will Also get all the 12 OTT Apps Subscription worth Rs 1500 for free which includes Netflix as well. The internet speed of this plan is 300Mbps and it also offers Truly Unlimited Data. The monthly rental of the Titanium plan is Rs 1499 + GST.
Diamond+ Plan
The Diamond Plus Plan is the third premium plan from Jio. It offers up to 500mbps of High Speed and up to 4000GB. The Plan also includes Subscriptions for 12 OTT Applications. It is a great plan for users who require High-Speed Internet with non-stop entertainment. The Monthly Rental of the Diamond+ Plan is Rs. 2499 + GST. It also includes Truly Unlimited Voice Calls including Jio Wifi Calling.
Platinum Plan
If you are a user who is in great need of Ulta high-speed internet, then JioFiber Platinum Plan is for you. The Platinum Pack is Jio's second premium plan and offers internet speeds of up to 1GBPS. With this plan, customers will get up to 7,5000GB of data at the 1GBps High Speed. Like other premium plans, it also includes complimentary membership for all 12 OTT platforms. The monthly rental of the Platinum plan is Rs 3,499 + GST.
Titanium Plan – Unlimited Jio Fiber Wifi Broadband Pack
The Titanium Plan is the most premium and high-end Jio Wifi Plan as of now. The Plan offers up to 15,000GB of Data at a speed of 1Gbps. It is the best plan for small offices which require high internet speed. The Monthly rental of the titanium plan is Rs 8,499 + GST. Like other Premium Plans, it also includes a complimentary subscription to all the available OTT Platforms including Netflix, Hotstar, Prime Video etc.
Recommended: Bsnl Unlimited Broadband Plans
Conclusion
In conclusion part, we want to share our experience with Jio Fiber Plans and Connection. Right now, the company is offering only seven Fiber broadband plans. Recently we have switched From Airtel Broadband to JioFiber Service. In terms of service and request handling, Jio is performing tremendously and is even better than Airtel. Also, they are now offering Truly Unlimited Data without FUP Limits and Wifi Calling. You will also get a Subscription to all the popular OTT platforms and a 4k set-top box with all the plans in Jio Fiber Wifi connection except their Bronze and Silver Plan.