Apps to Record Calls: In today's world, Many People prefer to record the phone call for security and personal reasons. Nowadays we all receive many fake and scam calls. For security purpose, smartphone users are advised to keep the call records. There are many other benefits of recording calls. Such as saving information received through a phone call. Forwarding call records to share information discussed on phone calls with colleagues. There are some manufacturers that provide call recording facility by default. But smartphones that do not consist of this facility, have to install call recording app to record the phone call.
In this post, we are going to tell you about 5 Best " Apps to Record Calls " for Android/iOS. There are many apps available to record the phonecalls for both Android and iOS platform. However, In this post, we are covering only those apps that are truly Genuine. Legal and. Provide a hassle-free call recording facility to the users with pros and cons.
Top 5 Best Apps to Record Calls for Android/ iOS
Call Recorder – Cube ACR
Cube ACR Record is one of the most technically advanced call recorder apps. The application offers VoIP and record phone calls. If you are an Android 9 user, you have noticed that the call recording feature is not enabling in your device. But In some Android 9 devices, the recording feature is working via the Cube ACR app. If you are using Android 9 device, you can try whether this feature is working or not by installing this application in your device.
 The app not only allows you to record phone calls. But also Skype. Viber. WhatsApp. Hangouts. Facebook. IMO. WeChat. KAKA. LINE. Slack. Telegram calls as well. Without a doubt, it is one of the best call recording app. It also offers features like Automatically record every call. Automatically record selected contacts. Exclusion list. Manual recording. In-App playback Starred recordings and. Smart speaker switching. (Switch from loudspeaker to ear speaker to listen to your recordings privately.). However, The only downside of this application is that it is not available on the iOS Platform. This application is available for Android users only.
Pros of Call Recorder – Cube ACR
Record Whatsapp, Skype, Viber etc Calls from the same application.
Features like record selected contacts, auto record, exclude list etc on offer.
Crystal Clear Sound Quality
Cons of Call Recorder – Cube ACR
Not Available for iOS Platform
Download Cube ACR Recorder for Android
ACR – Automatic Call Recorder App
The ACR is one of the most popular apps, which you can download to records your phone calls.  The app is available for free on both Android and iOS platforms. It is a very light application and its download size is less than 10mb. ACR consists of many features like:
Add Your Own Notes: User can add their own text to remember any important phone calls.
After recording: Users can share, play, delete and rename call recordings along with conversions in multiple audio formats via this feature.
Dual SIM device support: The ACR app allows you to record calls from multiple SIM cards.
Auto Delete Recordings: This feature deletes old call recordings automatically after a specific duration.
Mobile Number Tracker: The app also consists of the mobile number tracker feature which tracks the location and network used by a user.
Recommended: Apps to Download Songs for Free, listen to music offline
Cloud Backup & Restore: User can save call recordings on Google Drive and restore the same on other devices when switches to a new device.
Moreover, there are many other features present in ACR application like Record Selected Contact's, Set password etc. If you are looking for an app that can record calls from your dual sim card then ACR is the app you should install.
Pros of ACR App
Cloud Backup and Storage option to save recordings.
Dual Sim Support.
Auto Delete Recordings.
Security Password and lock.
Features like Record Selected Contacts, Auto recording, Manual recording etc.
Cons of ACR App
Records only Phone Calls (WhatsApp, Skype Calls not supported).
Call recordings sound quality is not at par with other apps.
Download the ACR app for Android
Download the ACR app for iOS/iPhone
Mimik Lite App to Record Calls
If you are an iOS user and looking for the best app to record phone calls then Mimik Like is for you. Mimik lite records incoming or outgoing phone calls automatically. The main advantage of this application is that it offers Unlimited call duration and number of recordings.
Through this application, a user can easily view, filter, tag, share and download recordings within a few taps. Moreover, You can also share recordings via Email, SMS, Airdrop, Google Drive, Dropbox and much more. Undoubtedly, it is one of the best Apps for Recording Calls in iPhone / iOS. The main downside of this application is that it is not available for Android.
Pros of Mimik Lite
Share recordings directly via email, SMS, Drive etc.
Unlimited Duration and number of call recordings
Sound Quality
Cons of Mimik Lite
Size (very heavy application).
Only available on iOS Platform.
Super Call Recorder App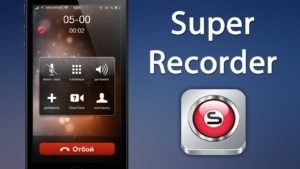 Super Call recorder is the app which will record your phone calls in real-time. The main advantage of this application is that the user can convert the automatic recording to mp3 format with built-in playback. Another big advantage is that you can save the recording directly into your SD Card. (It is a paid feature in most apps but this app is giving it completely for free.). Moreover, the user can also share the call recordings directly via WhatsApp, email through this application.
Recommended: Best Camera Apps for Android/iOS
Pros of Super Call Recorder
Convert call recording to mp3 format.
Save audio directly to SD Card for Free
Available for both Android and iOS Platforms
Cons of Super Call Recorder
.Call Quality
Updates
Not compatible with Android 10 devices as of now.
DC Call Recorder Best App to Record Calls io Android
DC Call Recorder is the call recording app available for Android Devices. The app focuses on Privacy and security along with the call recording feature.  Users can manage your recording files, listen to the recordings, add notes and share them as preferred. The main feature of this application is Set password. User can set the password on call recording files to protect the privacy. Moreover, A user can mark recordings as important and. Also, Convert and share call recording files.
Recommended: Free SMS Apps for Android and iOS, Send free Text SMS
Pros of DC Call Recorder
Set password on Audio Files
Secure
Convert audio files
Cons of DC Call Recorder
Not Available for iOS Platform
Voice Clarity is not the best
Download Super Call Recorder for Android
Overall, That's It In this post of Apps to Record Calls for Android / iOS. If you are having any problem in downloading any app, please comment below. All the apps included in this post have been tested by our team and are 100% working on both Android and iOS platforms.