Apps to Download Songs: Listening to songs is the best way to pass the time, have a fun road trip and party with friends or you can say it is the best source of entertainment. Many people listen to music during a gym workout, when bored, happy, sad or in any mood. Now it has become difficult to live without songs. Nowadays, most smartphone users listen to songs through YouTube or any other online streaming app. The main problem with this is the availability and speed of the Internet.
There are many areas and places, where internet speed and availability do not exist. In such situations, streaming gets interrupted and it becomes difficult to kill time at such locations. In addition to this, there are some users who do not require active data packs and use WiFi connections in their homes. For those users, the only solution is Download Songs. If you are one of those users then this post can be helpful for You. In this post, we will tell you about the top 5 Best Apps to Download Songs for free in 2023.
By the way, there are many music-downloading apps available for both Android and iOS platforms. However, in this post, we are covering only those apps that are truly genuine – legal and provide a hassle-free music listening experience to the users.
List of Apps to Download Songs for free in 2023
Google Play Music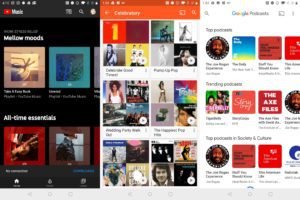 Google Play Music is one of the most Popular Music streaming Apps available for both Android and iOS platforms. Play Music is officially by google and it is basically Google's Music marketplace.  The app lets you instantly start radio stations based on songs, albums or artists. You can also browse by genre, mood, activity, decade and much more with a single app.
It also features a song collection option for users which enables a user to Bring their own music collection with them by uploading 50,000 of songs and listening to them across all the platforms Android, iOS and the web for free. Such that you can listen to your music collection from any device. Through this application, Users can also Discover and subscribe to podcasts.
Users who are only looking for Download Songs can store download songs through the Google Play music app by going to the song option and tapping the Download or Save offline option. However, you cannot store or save songs directly on your device but through the offline save option, you can listen to them whenever and wherever you want without the internet.
In case you are a Music Lover or a person who cannot live without Music, then you can also subscribe to Google Play Music Premium Subscription. The Subscription comes along with a YouTube Music Premium membership. Such that you can enjoy YouTube Music ad-free, in the background and Download it to your device as well. This makes it one of the best Apps that you can install to download Songs offline.
Pros of Google Play Music App
Discover and Subscription to Podcasts
listen to Android, iOS and Web
Upload 50,000+ Music Collection
Radio Station
Download Songs offline within the app.
Cons of Google Play Music App
Ads-supported
A subscription Requires to Download Songs directly to the device.
Download Google Play Music for Android
Download Google Play Music for iPhone/iOS
Wynk Music App- Download Songs Offline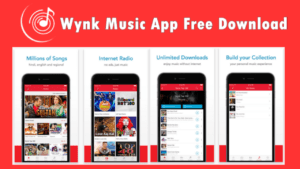 If you are an Airtel user, you must have heard about Wynk Music App. The Wynk Music app is developed by Airtel and it is one of the best apps you can consider for downloading music offline. It is a must-have app for Airtel users and it enables Airtel users to set the caller / hello tune of their choice through this application.
You can listen to all the songs From trending Bollywood hits to the International popular artist, Create your own playlists and share them with friends & family and do much more through Wynk Music App.
The app is not only for Airtel users even non-Airtel users can also install this app and experience HD music streaming. Moreover, you can also follow your favourite artists, and playlists and get Personalised recommendations for discovering more music.
Recommended: Free DSLR Camera Apps for Android/iOS
Pros of the Wynk Music App
HD Quality Music
Support for Google Assistant and Chromecast.
Free Sync lyrics
Set Hello Tune for Airtel Users through the same application.
Indian Regional Languages Music.
Cons of the Wynk Music App
Limited access to Non-Airtel Users.
Ads Supported
Download Wynk Music for Android
Download Wynk Music for iOS/iPhone
JioSaavn Music & Radio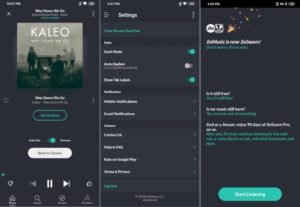 JioSaavn is another app that you can consider downloading songs. The application has been officially developed by Saavn and Jio. You may remember that a few years ago Saavn was one of the most popular music streaming companies and now it has become much better with Jio Partnership.
If you are a Jio User, then you must be using this application. It enables Jio users to Set JioTunes and Changes it whenever they want.
The JioSaavn app lets you enjoy music, radio and podcasts for free. The best thing about this application is to listen to Indian regional languages Like Gujarati, Punjabi, Tamil, Kannada, Telugu, Marathi, Malayalam etc. Songs for Free. The App is also available for non-Jio Users with Similar Benefits. However, the Jio Sim users will get 90 days of JioSaavn Pro Ad-free Music.
Pros of the JioSaavn App
Set and Change Jio Tune with this Application.
Exclusive Content.
Original shows and podcasts Support.
Alexa, Chromecast, Google Home, Android Auto, Carplay etc Support.
lyrics, with live sync
Cons of the JioSaavn App
Limited Access to Non-Jio Users
Ads
Download JioSaavn Music App for Android
Download  JioSaavn Music App for iOS/iPhone
Audiomack: Download New Music Offline Free
Audiomack provides streaming and free download access to the newest and Trending Songs, right at your fingertips. Its free music download feature allows users to play their favourite songs offline and Popular Albums.
Users can browse music from top categories like Hip-Hop, Rap, R&B, EDM, Afropop, and Reggae. The app is free and requires no subscription to download songs.
Pros of the Audiomack App
Unlimited and free Access to All Users
Create unlimited playlists of your own.
Unlimited Songs Download for Offline Use.
Cons of the Audiomack App
No Indian Regional Language Songs
Limited Content
Ads
Download Audiomack for Android
Download Audiomack for iOS/iPhone
BoomPlay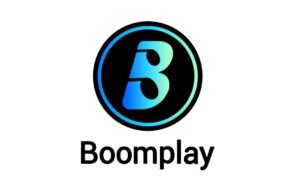 Boomplay is the International  Music App that enables Download and Save Songs Offline. The app features Over 20m of your favourite international tracks all in one place. By listening to songs through this app, you can also earn Reward Points, which you can use to redeem amazing gifts such as Boomplay subscriptions, merchandise, and much more.
All the users will get unlimited access to new music content and download it for free. The app also provides the latest Music news 24/7, Stay up to date with upcoming releases, trending topics, and music news.
Pros of BoomPlay
Earn Rewards by listening to Songs.
Customized Private FM Support
Unlimited Download Option
Top International Tracks
Cons of BoomPlay
Only Available on Android
No Indian Regional Languages Music.
Only International Tracks.
That's all in this post of Apps to Download Songs for Free in 2023. If you are facing issues in downloading any of the apps then please comment down below. All the apps included in this post are tested by our Team and are 100% working on both android and iOS platforms.