Best Smartwatches Under 5000: Smartwatches have now become one of the most popular gadgets these days. It is a perfect blend of a watch and a feature-rich fitness tracker with alerts for calls and notifications. There are many budget smartwatches and fitness trackers available in the Indian market. If you are also planning to buy a budget smartwatch, then this post may be helpful for you. In this post, we will tell you about the top 5 smartwatches priced between 3,000 and 5,000 in India in 2023. The products depicted in this post are compatible with most Android phones and iOS devices. This way, you don't have to worry about compatibility issues.
Most smartwatches in this budget offer heart rate monitors and blood oxygen monitors. Buying a smartwatch also makes your lifestyle healthier with all the tracking and indications related to it. However, these trackings are not 100% accurate but help maintain your health and fitness level easily.
Top 5 Best Smartwatches Under 5000 in India 2023
Realme Watch 2 Pro

The Realme Watch 2 Pro is the latest budget smartwatch from popular smartphone manufacturer Realme. It offers great specifications and features at such a great price. Apart from this, the look and feel of the watch are very premium and comparable to some premium watches. It sports a 1.75-inch auto-brightness large colour LCD with a resolution of 320 x 385 pixels. The watch also comes with dual satellite GPS for accurate route information and step tracking. It is naturally waterproof, with an IP68 rating and 1.5 m of water resistance.
The Realme Watch 2 Pro supports the tracking of 90 sports modes, including running, football, cricket, cycling, and more. These modes are very useful in providing sports assistance and logging. In addition, it also comes with real-time heart rate monitoring, which automatically monitors heart rate status. A blood oxygen monitor is also present to monitor oxygen levels.
Using the Realme Link App, users can visualise health information on their smartphone and access other features of the Watch 2 Pro. Users will also receive Instagram, Twitter, messaging, YouTube, and other application notifications.
It also comes with a smart control feature that lets you play and pause music and switch songs on your watch without taking out your phone. Additionally, users can also take pictures remotely from their phones using this feature.
The Realme Watch 2 Pro also comes with a sleep monitor to track your sleep and find your phone's convenience, attention, and drinking reminders. It is a great device to keep your lifestyle healthy and fit.
The Realme Smartwatch 2 Pro packs a 390mAh battery, and Realme claims that it can deliver up to 14 days of theoretical working time. Connectivity options include Bluetooth 5.0, Realme Link app support, and support for all Android devices.
Pros of Realme Watch 2 Pro
Elegant design with comfortable straps
Long-lasting battery life
Value for money
Cons of Realme Watch 2 Pro
cannot be used while swimming.
There is no iOS support as of now.
Oneplus Nord Watch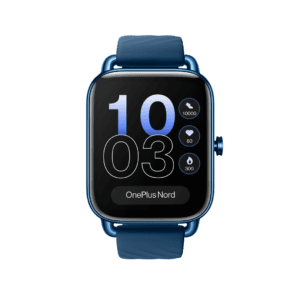 Oneplus has recently launched its new budget smartwatch under the Nord Series. The smartwatch sports a 1.78-inch AMOLED display with a refresh rate of 60 Hz and a resolution of 368 x 448 pixels. The Nord Watch comes in two smooth colours: deep blue and midnight lack. It features 105 different sports modes with optimised health data measurements, including automatic running and walking tracking. The watch also comes with an IP68 water and dust resistance rating. Oneplus has also added a Women's Health feature that tracks women's monthly cycles and sends discreet reminders. It also has an in-built GPS with a 3-axis accelerometer. The company claims Nord Watch delivers up to 10 days of battery life on a single charge and 30 days on standby.
Pros of the Oneolus Nord Watch
Women's Health Feature
inbuilt GPS
Bright Display
Cons of the Oneplus Nord Watch
No Bluetooth calling feature
Lacks the always-on display feature
Amazfit Pop 3R – Best Looking Smartwatches under 5000
Amazfit is one of the most popular and well-known smartwatch brands in the Indian market. If you are looking for a premium-looking smartwatch with a stainless steel chain strap, then the Amazfit Pop 3R is for you. It is the best-looking smartwatch under 5,000. It sports a 1.43-inch AMOLED display with a resolution of 466 x 466 pixels. The display also gets Corning Gorilla Glass 3 protection and an anti-fingerprint coating.
It comes with a classic round metallic design with a glossy metallic middle frame and a stainless steel strap. However, there is also a silicone strap option that is priced 1000 rupees lower. It comes with low-power consumption sensors and an optimised algorithm that provides up to 12 days of battery life.
Amazfit Pop 3R offers 100 sports modes, including exercise, treadmill, and cycling modes, and tracks real-time data. Another great feature of this watch is Bluetooth calling. This watch comes with a mic and built-in speaker through which you can accept phone calls.
It also has a heart rate monitor for automatic heart rate detection. It also supports heart rate warnings; when it detects a heart rate, the clock will vibrate when the alert exceeds its value. You can also receive notifications for email, messages, and other smartphone applications.
Apart from this, features like sleep tracking, sedentary reminders, event reminders, music control, etc. are also provided in the Pop 3R. This is a great value-for-money smartwatch for users looking for a premium-designed watch with iOS compatibility. It is currently the best-looking smartwatches with a metallic design and steel strap under 5000 in India in 2023.
Also, read Best 5G Smartphones Under 20000
Pros of AMAZFIT Pop 3R
Bright and crisp display
Premium round design with metallic frame and steel strap
Decent battery life
Cons of AMAZFIT Pop 3R
Less Comfortable
UI Experience
No GPS
Fire-Boltt Invincible Plus – Best value for Money Smartwatches under 5000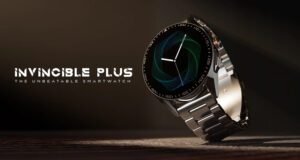 The Fire-Boltt Invincible Plus is the most premium-looking smartwatch under the Rs. 5,000 price bracket. It comes in nine colours with silicon and metallic strap options. The Invincible Plus sports a 1.43-inch AMOLED display with a resolution of 460*460 pixels and 600 nits of brightness. The watch also has an always on display feature. It comes with 4 GB of inbuilt storage to store MP3 songs for device-free playback. There are more than 300 sports modes present in this watch to track all your fitness activities. Like the other smartwatches in this segment, it also has a Bluetooth calling feature with an in-built mic and speaker. The main highlight of Invincible Plus is that it has three button pushers, which include one rotating crown to easily navigate the menu and change the watch faces. There are more than 120 in-built watch faces to choose from.
Pros of Fire-Bott Invincible Plus
Premium look and feel
Value-for-money pricing
Almost accurate tracking
Cons of Fire-Bott Invincible Plus
No IP68 Rating (IP67 Rated)
Poor-quality magnetic charging connector
No GPS
Noise ColorFit Vision 3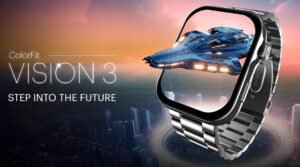 The NOISE ColorFit Vision 3 is another wonderfully decent smartwatch in this segment. It comes with a 1.96-inch AMOLED display with a resolution of 410 x 502 pixels. The ColorFit Vision 3 also gets IP68 waterproof certification. It has 100+ sports modes with auto-sports detection for health and activity tracking.
Additionally, it offers 120+ cloud-based watch faces, or users can customise the watch face and pair it with silicone straps. The watch also comes with metallic straps, which are priced higher than the regular version of the smartwatch.
The ColorFit Vision 3 features a 24/7 heart rate monitor, a sedentary alarm, a sleep monitor, step tracking, and comprehensive activity and health tracking with calorie burn. Apart from this, it also has a new Breathe Mode. This mode guides you with meditation and controlled breathing. It also supports call, text, and social media notifications with music control. It packs a 300mAh battery, which the company claims can last 7 days with moderate usage and 2 days with calling.
Pros of ColorFit Vision 3
Great battery life
Crisp and bright display
Gesture Control feature
Cons of ColorFit Vision 3
Auto sports detection
No GPS
That's all in this post of " Best Smartwatches under 5000 ". If you have any questions / Doubts / Suggestions regarding any watch then please comment down below.