How to Recharge FASTag: In the previous post, we gave you information about generating FASTag. After that, we received a lot of comments from our viewers, encouraging us to make more posts related to Fastag. As we all know, Fastag has become mandatory now.
According to NHAI, if you don't have Fastag installed on your vehicle or have no balance in your Fastag account, then you will have to pay twice the toll tax.
All new vehicles come with a dealer-installed tag, so new owners don't have to worry about how to buy them. In case you don't have a FASTag, you can easily buy one for your vehicle from both online and offline platforms. But the main concern in the minds of most users is related to its recharge. If you are among those who are experiencing a problem while recharging the tag, then this post is for you. In this post, we will tell you "How to Recharge FASTag " Online.
Benefits of Recharging FASTag Online
You can recharge your tag by sitting in any corner of the world.
The online recharge portal will remind you when the balance is zero.
If your balance is zero and you are near the toll tax, you can easily recharge it in seconds and avoid paying toll penalty fees.
There is no need to go to the bank repeatedly for a recharge.
Great online cashback offers on recharges
Recommended: How to Generate and Purchase FASTag Online 
How to Recharge FASTag Online Through Bank Portal, PayTM, and PhonePe
Through the Bank Portal
If you have purchased the tag through the bank, then this method is only for you. All banks have separate FASTag portals. You have to visit the bank's website to open the Fastag portal and enter the details provided to you by the bank.
In our case, we have purchased your sticker from HDFC Bank, but do not worry if you have purchased a sticker from another bank; follow the same steps, as these steps apply to all bank portals.
First, open Fastag's linked bank portal on your smartphone or PC. You can easily open the portal by typing your "bank name" in the Fastag portal on Google (for example, HDFC FASTag Portal).
After opening the website, log in to your FASTag account using your user ID, vehicle registration number, wallet ID, RF ID, and password. In case you don't remember the password or have not generated the password yet. In such a case, you can do so by registering a mail ID, calling customer care, or using self-help options.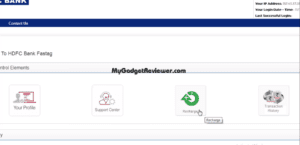 After logging in you will see four options Your Profile, Support, Recharge and transaction history. Click on the Recharge Option.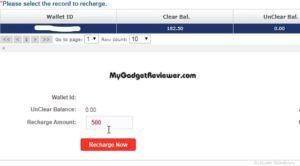 Now, enter the recharge amount in the given text link and click the Recharge Now Button.
After that, you will be redirected to the payment gateway. Select the method through which you want to pay the amount.
Done, you have successfully completed the bank portal method of How to Recharge FASTag
Through Paytm, recharge your FASTag online.
The PayTM method is for those users who have purchased the FASTag through PayTM. By the way, most of you may not know that FASTag purchased through PayTM maintains its balance through your PayTM wallet. This means you just need to add money to your wallet account, and automatically your FASTag transaction gets deducted through it. So let's see how to recharge FASTag via PayTM.
In the first step, you have to launch the Paytm app on your smartphone or PC. And login to your account. (Login with the same account through which your FASTag is linked.)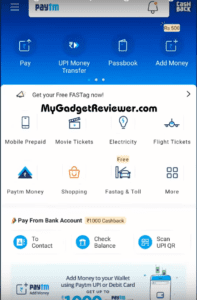 After logging in to your PayTM Account, tap on the search bar and Type Fastag or Go to this PayTM Link.
Tap on the FASTag option. Then you will see Add Money to FASTag option, tap on it.
Then you will be redirected to your Add Money to Paytm Wallet page. Enter the Amount you want to add in your wallet or FASTag Account. You can use the same money for PayTM transactions as well as FASTag Transactions.
Done. You have successfully Recharged your FASTag Account via PayTM.
Recommended: How to Check Vehicle Registration Details Online through Number
Through PhonePe or the BHIM UPI Method
In our previous post on FASTag, we received so many queries regarding how to recharge FASTag via PhonePe or BHIM UPI. It is the only method as of now through which you can topup any FASTag account, no matter from where you purchased it. This is the easiest method, and through this method, you can recharge multiple FASTags in case you have more than one.
First of all, log in to your PhonePe account.
After logging in, you will see the To Contact option under the Money Transfer category; tap on it.
Then, tap on the BHIM UPI ID and tap on the "Add BHIM UPI ID option placed at the bottom of the screen.
Now, you will be redirected to the Add BHIM UPI ID page. In Beneficiary BHIM UPI ID, you have to enter netc. YourVehicleNumber@bankname (for example, netc. DL11CCXXXX@HDFC). NETC is the National Electronic Toll Collection.
After that, enter the amount you want to add to your Fastag and complete the transaction.
Done! You have successfully recharged the FASTag using PhonePe.
That's all in this post about how to recharge FASTag online. If you are facing issues while adding the amount to the FASTag account through PayTM, PhonePe, or the bank portal, then please comment below. All the methods included in this post have been tested by our team and are 100% working. For more information related to FASTag recharge, please visit the National Electronic Toll Collection Website.