How to Port from Airtel to Jio
How to Port from Airtel to Jio: In today's world, porting your existing number to another network provider is a matter of few clicks. There are many people who are not happy with their current network provider. So that they want to switch their existing number to another provider. The main advantage of porting is that your old number will not be lost and you will be able to use all the services of the new network. Are you also worried about the slow data speeds and network availability of your current network provider? And want to shift your number to another number, then this post can be helpful for you. Jio is India's number 1 network service provider. Its plans rentals and data speed are better than other networks to some extent.
On the other hand, Airtel is another popular network provider in India, whose network range and data speed is at par with Jio. The network quality varies from place to place, such that Airtel has a better network in some places and Jio in some places. If Airtel's network is not as good in your area, then you can get your number ported to Jio. The main advantage of porting your existing number to a new network instead of buying a new connection is that you can use your old number in a new network. In this post, we will tell you about How to Port From Airtel to Jio without changing your existing number. Before porting your number, confirm with any Jio user whether the network quality of Jio is good in that particular area or not.
How to Port From Airtel to Jio without Changing your Existing Number
Online Method – Through My Jio App and Home Delivery.
At the present time of the corona epidemic, we recommend you to go with the online method. By choosing this method, you will get your New Jio SIM and porting process at your doorstep. However, there are mainly additional charges of Rs 99 for Jio Sim home delivery. Also, the main advantage of choosing this option is that you can choose any plan from jio lineup while limited plans options are available in Jio stores.
Recommended: Reliance Jio Postpaid Plus Plans, Free OTT Subscriptions Netflix, Hotstar and Amazon Prime Video
In the First Step, Open Messaging App in your Device.
Then, Type the text 'PORT' space 'your 10 digit Airtel mobile number' (for example type- Port 98XXXXXXXX) and send it to 1900.
Now, you will receive UPC Code along with expiry date.
Next step, you have to download MyJio App from the app store or given link.
Launch the Jio App and Tap the Menu icon.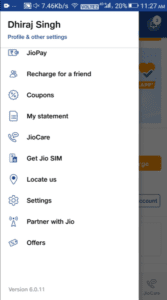 In the Menu icon, you will see Get Jio Sim option, tap on it.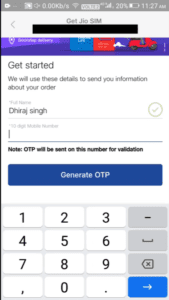 Enter Your Name and mobile Number in the given fields. Tap on Generate OTP button.
After receiving OTP, enter it in the given text field and Tap on Verify OTP button.
Then you will see two Option Existing Sim (MNP) and New Sim. In this case, you are porting your existing number such that you have to tap on the Existing Number (MNP) option.
Now Select the Prepaid or Postpaid Sim Type and choose the plan according to your usage.
Then, Enter your address and choose the payment option.
Select the date and time slot when you want the Jio Executive to deliver your sim. Done You successfully port your Airtel Sim to Jio online.
Recommended: Jio Unlimited Data Recharge Plans in 2020, Cashback offers
Offline Method – By Visiting Nearest Jio Store
If you are not comfortable for home delivery or you do not want to pay that extra delivery charge, then you can port your Airtel SIM to Jio by visiting your nearest Jio Store. Keep in mind that you have to take all the important documents to port your existing number. For more information related to the documents and the porting process, you can visit the Jio Official Porting Help Page.
First of all, Launch the Messaging or SMS App in your Device.
Now in Text Section type 'PORT' space 'your 10 digit Airtel mobile number' and send it to 1900 (1900 is the official Porting USSD Code).
After Sending the Porting request, You will receive the Unique Porting Code along with its expiry date.
Once you receive UPC, Visit your nearest Jio Store and tell the representative you want to port to jio from your existing network.
Now, Jio Executive will Verify all the documents (mainly voter id card, Aadhaar etc.)
Then, Select the Jio Subscription plan & pay the recharge amount.
After completing all the processes, Jio Representative will handover the Jio Sim to you.
After 2-3 Days your old sim will show no network, insert the New Jio Sim in your device and Done, You have successfully ported your Airtel Sim to Jio.
That's it in this post of How to Port from Airtel to Jio. If you are facing any issues while performing any of the listed methods then comment down your queries in the below comment section. All the Methods mentioned in this post have been tested by our team and 100% working.