Top 8 Steps For Creating Highly Engaging YouTube Videos
YouTube, the online paradise for video lovers, offers a fair playground for everyone to make a lasting impression on viewers with creative visual content. Despite this, some creators are more successful than others in commanding the attention of audiences.
Wondering what the driving force behind their success is? They blend passion for creativity with value for viewers.
If you are new to YouTube and want to take this social platform by storm with impactful videos, this post is for you. As a beginner, you can start publishing videos with YouTube templates that offer you the freedom to present your content in a visually compelling manner and also help optimize your time.
Making Engaging YouTube Videos That Leave An Impact on Audiences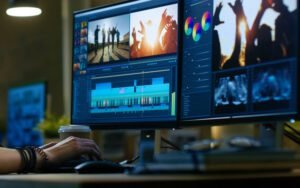 Think of a big-budget movie with an enviable star cast that has tanked at the box office.
Why did it fail to attract viewers?
A little deliberation will reveal that a storyline was missing, and the director assumed that viewers could be wowed by charismatic stars. This is true for YouTube videos too. You can't take your viewers for granted.
Already, YouTube users watch more than 1 billion hours of video every day, and they're not spoilt for choices. Your video has to differentiate itself from the rest to stand out and get viral.
Below, you can get a quick overview of ways to make an emphatic video that resonates with viewers.
Plan Your Content From Audience's Perspective
Put yourself in the shoes of a viewer and consider what you stand to gain after watching the video.
You can then strategize on creating that perfect video that is witty, engaging, and informative.
Earmark Your Ideal Audience
Knowledge of the niche for which your video is meant is an absolute must for YouTube. This way, you can visualize the problems, needs, expectations, and anticipations of targeted viewers that you intend to benefit from.
Then, you can design your video's persona to measure up to the specific requirements of viewers.
Evaluate The Relevance of Content To the Audience
Your content must help viewers excel in their efforts by offering them ideas or information which hone their competitive edge.
Content quality, relevance, and delivery are vital for making an impact.
Don't Mimic The Big YouTubers
It's a basic human instinct to imitate the style of successful people. If you are thinking that aping the presentation of big YouTubers is the recipe for impact, you are wrong.
You won't be able to make any headway, and your creativity will stagnate.
Don't aim for hyped perfection from the first video. Create your own style, be natural, and focus on the value you will deliver.
Help viewers accomplish specific goals to be successful.
Search For An Impactful Idea
Suppose you are delivering cloud computing-related services, and you make a compelling video on the advantages of the cloud. How many people do you think would watch it?
Only a handful of greenhorns because YouTube is already full of many such videos. To outsmart others, your video must talk about things that viewers are not already aware of.
To arrive at an outstanding idea, you need to:
Conduct a YouTube search with specific keywords, evaluate the results that show up, and assess if there is still scope for creating some unique, audience-relevant content
Go through the comments posted against videos that pertain to your interest area and narrow down on the suggestions of viewers demanding content for better value-addition
Participate in the discussions of various social media groups and communities to learn about the content type people want to watch
Use The Right Gear For Making Impactful Engaging Youtube Videos
You need not invest heavily in high-end equipment and software for creating your first video.
A smartphone with a high-resolution camera, screen recorder, a decent microphone, and a good YouTube video editor with lots of customizable YouTube templates will help channel your creativity.
Focus on lighting as it helps present your subject in an appealing manner, complements the feel and mood of scenes, and improves the quality of the video.
If your phone can shoot in 4K or HD, you can safely avoid DSLRs as you need not manage many complex options and settings.
Record Your Video In the Optimal Setting
Chalk out a script that clearly spells out camera angles, shot parameters, graphical inputs, dialogue sequencing, etc. This will prevent your focus from straying.
Make the shooting place clutter-free and presentable. Aesthetics make a good impression on viewers. If you are speaking on the camera, get a distraction-free background in one colour with a soothing tone.
For screen recording, keep the desktop free of unnecessary apps. It is better not to record in front of the window as the subject can appear as a silhouette.
Level your camera so that it faces the subject squarely, and viewers need not strain their eyes to get a good view. Ideally, the subject should be in the frame's centre.
Fine-Tune The Video With A Good Editor
You need a simple YouTube video editor with an intuitive interface and easy-to-use tools.
Here are some things you can do to fine-tune the video:
Trim extra footage, make transitions seamless, cut and join related scenes, insert titles, add special effects, and do everything to render the video look professional.
Add an intro to give viewers a feel of what they can expect.
Offer relevant information with chyrons strategically placed at the screen's lower third area.
Insert background music that is soft to the ears and capable of sustaining audiences' interest.
Use voiceover in a friendly yet authoritative tone to narrate the significance of the scenes to viewers.
Conclude your video with an engaging outro that carries your specific call to action. You can ask viewers to subscribe to your channel, browse more related videos, or explore your website or channel.
Your video is now ready to be published. Check the quality once and if you are satisfied, upload it to YouTube.
Conclusion
You have now become well-equipped with the insights needed to create impactful engaging youtube videos that will create ripples on the platform. Keep practising to hone your video-making skills, and soon you can join the ranks of accomplished YouTubers.