Best Washing Machines in India: The Festive Season is coming and it's the best time to buy new home appliances. Are you planning to buy a new washing machine this festive season? if yes, then this post may be helpful for you. Nowadays, many high-technology washing machines are being introduced in India. There are a lot of options available in the market which confuse you quite a lot. If you want to know which machine will be right for you, then read this post till the end. In this post, we will tell you the Top 5 Best Washing Machines in India in 2023. After reading this post all your doubts will be cleared and you will be able to choose the right machine for you according to your needs.
Buying Guide:  Which Washing Machine is Best For You?
Semi-Automatic vs Fully Automatic
There are mainly two types of machines available in the market which are semi-automatic and fully automatic. In today's world, fully automated machines make more sense than semi-automatic ones. In a semi-automatic, there are two sides, one side is wetted while the other side is for drying. Also, a user has to manually unload wet-washed clothes and load them into a drying tub. Semi-automatic machines in India start at an average of Rs 6,500.
Fully automatic washing machines, on the other hand, are a single system where both washing and drying are done. A user only needs to set the timer and wash mode. After the cycle of the fully automatic machine is complete, it drys clothes up to 80% automatically and the drying process will also take place in the same tub. The average starting price of Fully Automatic Machines in India is  Rs. 10,000. Also, there are two types of Fully Automatic Washing Machines in India Top-load and Front-load.
Front-load vs Top-Load Washing Machine
There are two types of automatic washers. In top load machines, you have to load and unload clothes and stuff from the top. This is also the main advantage of a top-load washing machine and if you are old or have some physical problems, the top-load machine is comfortable to use and makes more sense for you. In addition, these machines have placed vertical washing drums such that they are compact and occupy very little space. These machines are best suited for small homes. In addition, top-load washers are slightly cheaper than front-load machines. But it consumes more power than front-load machines.
Pros of top load Machines
Compact Dimensions
Slightly Cheaper as compared to the front load
Comfortable for Old people, Easy to load and unload Clothes
Cheap Maintenance and Parts cost
Cons of Top load Machines
Quality of Wash
High Power Consumption
Less Washing Modes
Front-load washing machines are now popular and equipped with the latest technology. As they are equipped with the latest technology, they require less water and detergent than the top load washers. Also, front-load washers are more efficient than top-load machines. In these machines, the drum is positioned horizontally in such a way that it requires a little more space than top load washers. But the advantage of the horizontally aligned machine is that it distributes the detergent powder evenly to every corner, resulting in better washing quality in these washers. However, the cost of maintenance and spare parts of these machines is slightly higher than that of top-load machines. If you have space in your home and want an advanced machine that can give you quality washing, then the front-load machine is for you.
Pros of Front Load Machines
Better Quality Wash
Highly Efficient due to Less Electricity Consumption
Different Washing Modes
Latest Technology
Cons of Front Load Machines
Slightly Expensive
Take More Space
Uncomfortable for Old people to load and unload clothes
High Maintenance and spare parts cost
Top Popular Washing Machine Brands in India
LG
Bosch
Samsung
Whirpool
IFB
Haier
5 Best Washing Machines in India
In this list, we include two front loads and two top loads of fully automatic washers. In addition, we have also included one best semi-automatic washing machines for interested users. This list also includes the pros and cons of each product listed in it. Through this customers can identify which is the right purchase for them.
LG  6kg Fully Automatic Front Load with In-built Heater (FHM1006ADW.ABWQEIL)
LG is the most popular and trusted brand that you can blindly trust. If you are interested in a front-load fully automatic washer then the LG 6Kg FHM1006ADW.ABWQEIL model may be the right purchase for you. It comes with an in-built heater that heats water efficiently and effectively removes harsh stains and allergens from your clothes and is beneficial in the winter season as well. It has 6 motion direct drive technology. This technique enables the drum to be moved in multiple directions after selecting a wash program. The LG 6kg FHM1006ADW comes with an inverter direct drive that reduces vibration and noise during washing. For security purposes, it also has a child lock which disables the security panel to ensure safety. It requires 230 V power and achieves a maximum spin speed of 1000 rpm. It also comes with a 5-star energy-saving rating.
Pros of LG 6Kg FHM1006ADW
Very Useful Inbuilt Heater that gives the high-quality wash
Power Efficient
Reliable
Cons of LG 6Kg FHM1006ADW
Recommended: Top 5 Best Fitness Tracker Bands in India
Bosch 7 kg Fully Automatic Front Load (WAK24168IN) – Best Bosch Front Load Washing Machines in India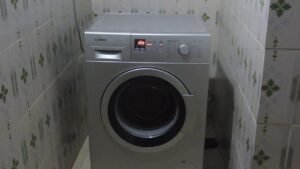 Another popular name in the electronic home appliance market is Bosch. It is a German brand with considerable credibility. The Bosch WAK24168IN model is a fully automatic washing machine for users who are searching for a new technology product. It provides a 7 kg washing capacity with an impeller washing method and requires 230 V power. The maximum spin speed of this machine is 1200rpm and it offers 15 different wash programs like Baby, Cotton, Super Clean, Hygiene, Wool etc. In addition, it offers five different washing modes Monsoon, Saree, Drum Clean, Spin / Drain and Rinses. It comes with a Voltcheck feature that ensures that power cuts or voltage fluctuations do not interfere with your washing experience. It also gets a 5-star electricity-saving rating.
Pros of Bosch WAK24168IN
Best Washing Quality
No Noise and vibration
Quick washing time
latest technology
Cons of Bosch WAK24168IN
Expensive
Slightly Higher Power Consumption as compared to other Front Load Machines
Maintenance and Spare parts cost
No inbuilt Heater
LG 6.5 kg 5 Star Inverter Fully Automatic Top Load (T65SKSF4Z) – One of the Best LG Topload Fully Automatic Washing Machines  in India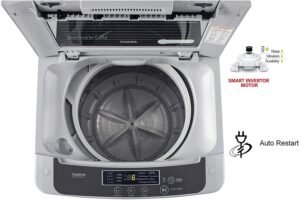 The top-load machine is perfect for consumers who do not have much space in their homes and are looking for a compact washing machine. There are many top-load automatic machines available in the market but LG T65SKSF4Z is the best product for some buyers. The main highlight of this machine is its smart inverter motor. The smart inverter motor is very energy efficient and operates at the most optimal level according to the power required. Due to this, the power consumption of this machine is very low compared to other top-load washers. It gets a 6.5 kg washing capacity and a maximum spin speed of 780rpm. It also gets a child lock for protection which disables the control panel. Since it receives an inverter motor, the power consumption of this machine is very low compared to other top-load automatic machines.
Pros of LG

T65SKSF4Z
Very Compact
Easy to load & unload Clothes
Inverter motor results in less power consumption
reliable
easy to use
Cons of LG

T65SKSF4Z
Inverter motor requires high maintenance
High price as compared to other top-load automatic machines
Samsung 6.2 kg Fully Automatic Top Load  (WA62M4100HY/TL 01)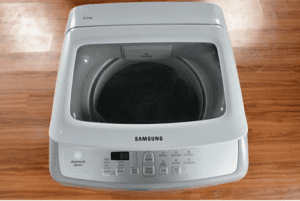 If you are looking for a top-load fully automatic washing machine then Samsung's WA62M4100 is a good option for you. Samsung is the best-selling and most popular brand in the electrical appliances category. It comes with a stainless steel pulsator which ensures a powerful washing and keeps it clean from the inside. Also, it gets the 6 blades system which creates a wide and intense shower of water that removes dirt effectively and rinses thoroughly. There is a Magic Filter feature in this washing machine which gathers the lint, fluff, and particles from the clothes. It has a washing capacity of 6.2 kg and a Maximum Spin Speed of 700rpm. There are five different washing modes jeans, Normal, Blanket, Delicates and monsoon mode which gives you a good quality wash.
Pros of Samsung WA62M4100
Useful Blanket and Monsoon Mode for weather and cloth type
Stainless Steel Pulsator
Value for Money
Very Compact
Cons of Samsung WA62M4100
slightly higher power consumption as compared to others
small washing tub
Recommended: Best Android Smart TVs in India under 15,000
Whirlpool 7Kg, Turbo Scrub Technology Top Load (SUPERB ATOM 70s)- Best Semi-Automatic Washing Machines in India 
If you rarely do laundry in your home or your family is small, then a semi-automatic machine is for you. There is a wide range of semi-automatic machines available in the market from different brands, but very few are reliable and provide you with good quality wash. The Whirpool Superb ATOM 70S is one of the best semi-auto machines available in the market. The main attraction of this machine is that it comes with Turbo Scrub technology. It has a flow-back design that lets you stand and clean your clothes without bending over. This design makes the machine easier to use for older people.
It comes with a 66L large washing tub which is great for a family of 3 people. The Atom 70s is powered by a 340W super-efficient and powerful motor that spins the clothes in all directions. For convenience, it comes with a multi-utility tray that helps you to sort and carry clothes easily. It is a great machine for single or two members who do not have a lot of clothes to wash.
Pros of Whirpool Superb Atom 70s
Large Washing Tub
Turbo Scrub Technology removes all stains from clothes
Decent Design
Cons of Whirpool Superb Atom 70s
Round Switches give it an old feel
dries clothes up to 60% only
noise and vibration
Best Time to Buy Washing Machine
After reading this post you can easily analyze which is the Best Washing Machine in India. Now we will tell you the right time to buy a washing machine. Well, in this post we have also included the product buying links to each product through Flipkart and Amazon.
Also, if you can wait till the nearest festival then please wait, during the festive season, the prices of home appliances are reduced from 2000 to 5000 and the right time to buy the washer. Be sure to check the price in offline markets before placing orders from e-commerce websites.