How to Record WhatsApp Calls on Android and iPhone
How to Record WhatsApp Calls: For some people, call recording is one of the important features for security and other personal purposes. Many call recording apps are available on the App Store for both Android and iOS Devices. In today's time when we are getting unlimited internet but limited voice call minutes, most of the users prefer online voice calls on social platforms like WhatsApp, Facebook Messenger etc. Whatsapp is one of the most popular messengers which offers voice call feature.
There are many WhatsApp users who want to record voice calls, but this feature is not present in the in-app yet. While many apps and smartphones feature call recording, there is no support for WhatsApp call recording. If this is also one of your concerns then this post is for you. In this post, we will tell you about How to Record WhatsApp Calls on Android and iPhone.  There are many ways to record the WhatsApp phone calls for both Android and iOS platform. However, In this post, we are covering only those methods that are truly Genuine. And Provide a hassle-free call recording facility to the users.
How to Record Whatsapp Calls on Android and iPhone
Record Calls on Android
The recording feature will only work on devices that have VoIP (Voice over Internet Protocol) call recording enabled. Contact your device manufacturer to find out if your device supports VoIP recording or not. Following are the steps to record a WhatsApp voice call:
First of All Download and Install Cube Call Recorder ACR from Google Play Stoe or given Link.
After installing the app, Go to your Device settings and enable the accessibility option.
Now Launch the Cube Call Recorder App and Grant all the permissions.
Then, Tap the Menu icon > Recording > VoIP Audio Source and Select Voice Communication.
Now, Go to Whatsapp and you will see blue colour Widget appearing on your screen. In case it is not showing then go to app settings > Recordings and enable Force in-call mode.
Then, Make a Whatsapp Voice Call to any of your known contacts to check call is recording or not.
In this way, you will also be able to record calls from the Facebook messenger, Telegram, Hangouts etc apps which offers Voice Calling feature.
Recommended: Apps for Recording Phone Calls for Android/iOS
On iPhone and iOS Devices
Due to privacy restrictions, there is no direct way to record WhatsApp calls for iPhone and iOS devices. After much research, we have discovered a way by which you can record WhatsApp phone calls. However, this method is a bit complex and requires macOS. You will also need a secondary device (Android or iOS) that has WhatsApp installed. You can basically use the phone of any member of your family for some time in which their WhatsApp account is present. This method is only for users who are very integrated with the Apple Ecosystem.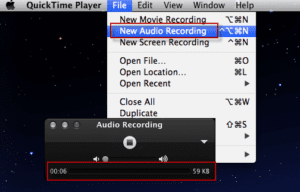 First of all, Connect your iOS device with your macOS device using data cable and grant all the permissions.
Open Quick time on your Mac Device.
Go to the File options and select the New Audio Recording option.
Now Click on the Source icon and select your iPhone or iOS Device (iPad).
Then, Select the record Button.
Make a Whatsapp Voice Call from your iPhone to the secondary Phone WhatsApp account.
Once the Call is connected, click on Add User icon and select the Contact you want to talk to.
After the conversation is done, click on Stop Recording option in Quick time and Save the recording File.
That's it in this post of How to Record WhatsApp calls on android and iPhone. If you are facing any issues while performing any of the listed methods then comment down your queries in the below comment section. All the Methods included in this post have been tested by our team and 100% safe, you can perform all these methods in your device without any issues. We are coming up with more Whatsapp tips and tricks like this, till then stay connected.