Photos play an important role in today's lifestyle whether it is uploading on social platforms, selling products online and more. There are many users who click pictures of objects and do not want backgrounds for professional purposes. On the other hand, some people do not like the background of the images and want to remove it. If you are also one of them then this post can be helpful for you. In this post, we will tell you How to Remove Background from Image For Free using app and Online Site. Removing the background helps to make the object in the image better and professional when selling products online. You can also add custom backgrounds, create stickers, and more with deleted background pictures.
How to Remove Background from Image – Online / App
Remove a Background from an Image Online for Free
This method is for laptop / desktop users who want to edit the image without downloading any third-party application or software. There are many online editors available on the Internet to edit your images. But when it comes to removing the background, RemoveBG is the best and reliable. It is an online editor that uses artificial intelligence to scan object boundaries and remove backgrounds. Also, it is available for free to all users.
First of All, Launch Browser in your Device.
Now, Go to RemoveBg Site or simply open the given link.
Then, Click on the Upload Image button and select the image you want to remove the background from.
Complete the verification process.
Once the image is uploaded, The Site will use its artificial intelligence techniques to separate/remove the background object.
Click on Download button to save the photo.
Recommended: 5 Best Selfie Camera Apps to Download
Using PhotoRoom App
PhotoRoom is one of the popular apps available for both Android and iOS platforms. Through this app, you can edit your images, change the background colour of images, make portraits photos for your passport, ID, driving license, and more. In addition, you can create collages, product images for e-commerce and marketplaces such as Poshmark, Shopify, eBay, ETC, Facebook Marketplace, or Depop.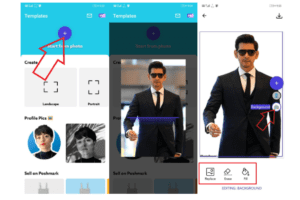 First of all Download and Install PhotoRoom in Your Android Smartphone.
Launch the App and accept all the permissions.
Now, Tap on Start from Photo Option and select image from the gallery.
Then, tap on the Background icon and select Erase to remove the background.
Also, you can change the background by Replace option or add a solid colour background using Fill option.
Once done, tap the Save icon. Then, Photo will be saved to your phone's gallery.
That's it, In this post of How to Remove Background Image in Android/iPhone. Methods included in this post have been tested by our team and 100% safe, you can perform all these methods in your device without any issues. We are coming up with more tips and tricks like this, till then stay connected.